Fenner Builds Local Brand Through Acquisition
Article published by Australian Bulk Handling Review

Fenner Dunlop Australia has acquired a local designer and manufacturer of pulleys and bulk handling equipment. William Arnott speaks to Tim Cleine, Operations Manager at CPA, to find out why.

By 2008, the mining and resources boom was in full swing. Despite the global financial crisis affecting most major markets, Australia managed to avoid the brunt of its impact. According to the Reserve Bank of Australia, this was partly due to increased investment in the sector as well as sizeable resource exports to China.

During the time of investment into the resources sector, smaller companies were able to find gaps in the market and develop these opportunities. Conveyor Pulleys Australia (CPA) – who design and manufacture engineered conveyor pulleys – was one of these companies.

Tim Cleine, CPA operations manager, had been part of the business from the very beginning and says during the early stages, the company's staff was small, but dedicated to being successful.

"When we started, our name wasn't out there on the marketplace. We weren't established but none of us backed away from the hard work ahead of us that was necessary to succeed," he says.

"We were lucky to have a team of exceptionally experienced people. We have more than a hundred years of industry experience combined across the team.

"One of those great people is John Bowman, the man who was put on to run the company from the start. It was a great opportunity for the pulley business, as it was entirely sink or swim, but early on he was given some bad news – he was told he had six months to live."

John managed to beat cancer and has stayed on with the staff, working with the team to provide consultation and expertise with his 40 years of experience.

During these early stages of development, the business forged a relationship with Fenner Dunlop Australia. As a major client, Fenner Dunlop helped support CPA's cash flow, to the point where it was able to rapidly expand.

New infrastructure and manufacturing equipment were purchased, which in turn required more space to work. CPA moved its factory to Carrum Downs in Victoria and expanded its range of products and services.

The company was able to double its manufacturing output and increase its capabilities, including the supply of parts such as bearings, shafts, shaft locking assemblies and steel fabrications.

The team also grew, including the addition of experienced engineers skilled in using a computerised design program. This meant CPA could support its products through a quality management system and provide documented conformance verification, such as compliance with AS9000-2000.

Mr Cleine says what sets CPA apart from their competition is the fact that they are a local company who know how to speak the language of Australian firms.

"Because we're based in Australia, we have a deeper understanding of the local industry than firms based in other regions such as China," he explains.

"The ability to just catch a plane or drive down to get hands-on with whatever needs troubleshooting means we can provide a fast response to fix issues effecting productivity.

"We have also spent a lot of time developing our costing process, so that when a mining or quarry company runs into an issue, we're able to get a price for them in a matter of hours," Mr. Cleine says.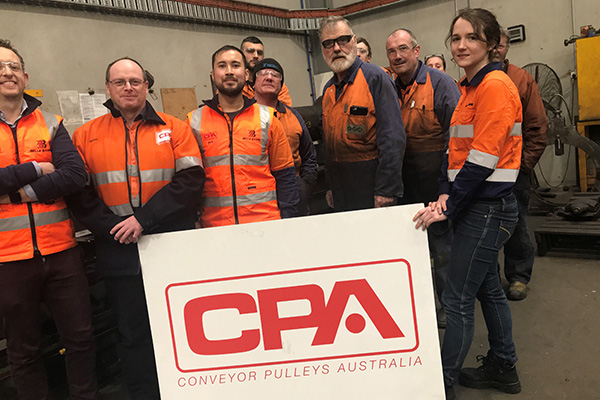 FENNER DUNLOP'S ACQUISITION

CPA's market offering, together with its ability to respond quickly to customer needs, had helped the company grow, to the point where it was one of the driving forces behind its incorporation into the Fenner Dunlop Group. In early 2019, CPA was acquired by Belle Banne Conveyor Services (BBCS), which is part of Fenner Dunlop Australia.

BBCS is a supplier of conveyor products, materials handling engineering and maintenance services for the bulk materials handling, mining, ports and heavy industry sectors. Through the acquisition of CPA, and the synergies to be gained with other Fenner Dunlop businesses such as Australian Conveyor Engineering (ACE), Fenner Dunlop expects to expand its range of locally manufactured pulleys.

Stuart Milliken, Fenner Dunlop's chief financial officer, says the combination of the BBCS brand and CPA's products and services will allow the company to offer a range of high-quality pulleys, manufactured in Victoria and continuing it's 'Think Global, Act Local' strategy in responding to its customer needs.

"We will combine the knowledge and expertise of the two businesses to enable CPA to provide the highest level of service and support to its many valued customers," he says.

With the support of a multinational behind them, Mr Cleine says the team is now able to focus on its core business, rather than the stresses that come with managing a small business, such as cash flow. The staff have also been given the opportunity to 'upskill' now that money can be put into training and development.

"Fenner Dunlop's team has been supporting us with these additional organisational roles, like contract management and marketing so that we can focus on providing exceptional service to our clients.

"It's great to see the extra faces coming in and helping out. We really feel like part of the bigger Fenner Dunlop team. There's a sense of belonging and we are keen to keep growing."

https://www.bulkhandlingreview.com.au