Fenner Wins Belt Supply For One of Rio's Longest Conveyors
Fenner Conveyors has been awarded conveyor belt supply for one of the longest overland conveyors.
The Western Turner Syncline is one of Rio Tinto's largest conveyors in Western Australia's Pilbara region, with tape length measuring an impressive 23.8km.
Operating as one of three overlanders within the Western Turner Syncline mine which feeds ore into the Greater Tom Price mining operation.
Fenner will deliver 40 steel cord belts, each 595 metres in length and weighing just over 50 tonnes. These reel lengths are optimised to reduce the number of splices required to install the belt, taking advantage of Fenner's production capabilities in Kwinana, WA.
The custom-made belts will feature Fenner's premium cover compounds including Tuff As for superior cut and gouge resistance and newly released, PowerSaver 2.0 for low-rolling resistance.
Technical Manager R&D, Christopher Ball, says Fenner's top-of-the-line cover grades are industry-leading in maximizing service life while reducing power consumption.
"By supplying products with superior wear resistance, we are enabling our customers to maximise their capital investment as well as reduce changeouts and consequent waste. On top of this, we are supporting our customers to reduce their carbon footprint by reducing the power required for site operations."
"The combination of maximised service life and reduced energy inputs will contribute to a lower overall impact on the planet," Ball explains.
"While other belting suppliers in the industry are focusing on off-setting emissions, Fenner's sustainability ambitions are focused towards reducing our direct and indirect emissions, as well as creating products with reduced environmental impacts."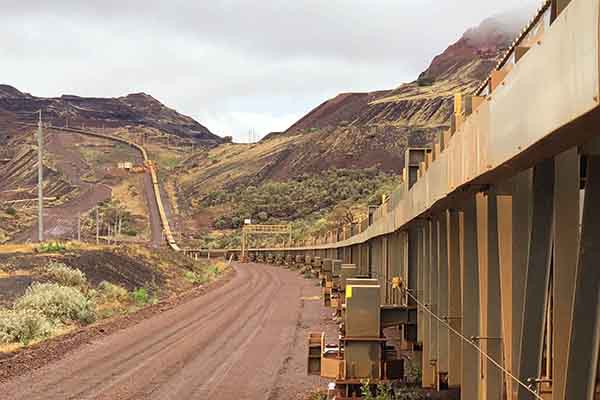 Travelling the 12km pulley-to-pulley distance, the overlander features a horizontal curve. ECS Manager, Mike Finlen, said this requires a great level of precision in engineering the belt for this application.
"With the tape length of 23.8km along with a horizontal curve, the risk of belt tracking issues can be significant if the belt is not manufactured to exact specifications."
"However, engineering belts for large-scale distances is a capability Fenner has proven skill in executing, having previously supplied belt for sites such as Rio Tinto Channar mine, BHP Jimblebar mine, and Anglo American Aquila mine.
"We're confident in the quality of our steel cord belting, and are eager to prove ourselves on-site," said Finlen.
Belt will be manufactured locally at Fenner's Kwinana plant, with delivery scheduled for late 2022.