Mechanical Practical Training Facility Launch Event a Great Success
On August 16, Fenner Dunlop officially opened the Mechanical Practical Training Facility in Kwinana, WA. The event was a great success with Key Customers, Resource Industry Training Council, media giants Australian Mining and Fenner Dunlop employees in attendance.
Steve Abbott, chief operating officer, opened the day followed by David Landgren, Executive Director, and Vicki Wust, National Training Manager, cutting the ribbon and unveiling the plaque to mark the special occasion.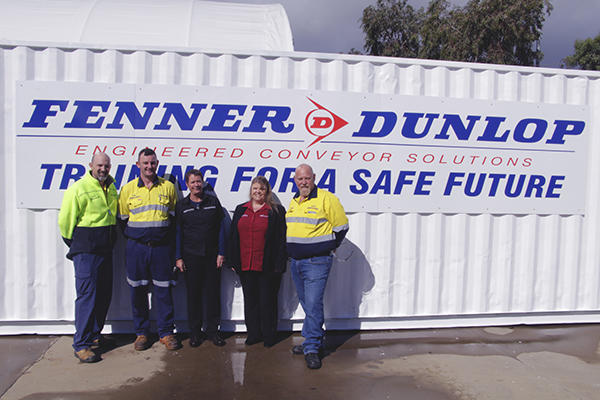 The commencement of our Mechanical Practical Training Facility (PTF) course marks the first step in providing a career pathway to our Mechanical Technician workforce. This course is specifically designed around new entrants, providing an introduction to Fenner Dunlop's safety standards and expectations along with the practical application to effectively undertake their duties.
Industry expectation started the course, and to provide quality learning outcomes, Fenner Dunlop ACE designed and engineered an operating conveyor system for this training program. This learning approach is critical in allowing attendees to work safely on a conveyor to troubleshoot within a controlled environment. Attendees will have practical hands-on experience with an introduction into rollers, scrapers and skirts installation and maintenance activities.
Upon successful completion participants will be awarded a Fenner Dunlop certification along with the national qualification Certificate I in Process Manufacturing (Conveyor Maintenance).
Following the Mechanical PTF course, an Advanced Mechanical Training program is scheduled to start mid-2019. This course is also intended to provide national certification.