Fenner Conveyors Pushes for Mental Health
Fenner Conveyors, as part of One Michelin Group Australia, proudly participated in the Push-Up Challenge 2023 – the largest mental health and fitness event in Australia. Every year during the month of June, the challenge calls for people across the nation to complete 3,144 push ups, whilst raising awareness and funds for mental health.
Executive General Manager of Sales & Marketing, Trevor Svenson, commented on the role workplaces can play in improving mental health.
"The Push Up Challenge gave our team the opportunity to have fun and form connections. It was great to see so many of our employees from different business units come together and support each other – plus of course some healthy competition!"
"It fostered a sense of unity and teamwork. The energy in crib rooms and offices enhanced when everyone jumped down and did 10 as a team," said Svenson.
Group Manager of Health, Safety & Wellbeing, Steph Boyldew said the team-building aspect of the challenge helped to build on a positive work environment, while reflecting our business values.
"One of our core values is 'Respect for People'; this means creating a working environment where all employees feel safe and supported, both physically and mentally. Many of our team members who participated commented feeling more connected to their colleagues and enjoyed being part of something bigger."
Fenner Conveyors' active involvement in The Push-Up Challenge was also intended to help raise mental health awareness within the Australian mining industry more broadly.
"By visibly demonstrating our commitment to this important cause, we encouraged our industry peers to consider their own wellbeing and that of their networks. This ripple effect is crucial in driving industry-wide change and fostering a culture that prioritises mental health," said Boyldew.
Reflecting on the success of the 2023 Push-Up Challenge, Boyldew reminded team members that "our actions, no matter how small, can have a significant impact. Through this challenge, participants have not only undertaken an extraordinary physical feat but have also helped shine a light on the movement towards change, deeper understanding, and compassion."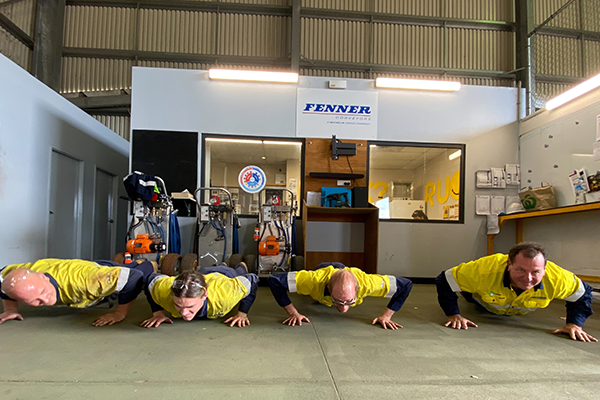 The One Michelin Group Australia team collectively completed over 126,000 push ups and raised $7,923 for mental health foundations: Lifeline, Movember, and Push for Better Foundation.