Kestrel & ACE Head Underground with Headspace
In celebration of the latest 'Community Conveyor' successfully delivered to site, ACE and Kestrel welcome community representatives underground for morning tea.
Last week as part the Community Conveyors campaign, ACE and Kestrel Coal Resources had the privilege of taking the headspace Emerald team underground, showcasing the inner workings of mine operations and sharing insights into machinery that drives the industry.
The morning tea in a delightfully different location highlighted a shared commitment to the betterment of the community.
Business Partner Communications and Community Engagement, Amy Church, said the Community Conveyors initiative is a testament to both business' commitment to corporate social responsibility and community engagement.
"Beyond profit margins, we believe in contributing positively to the social fabric that surrounds us. This collaboration with ACE to commission conveyors painted in the colors of community groups, creates a visual reminder of the impactful work that these organisations undertake daily."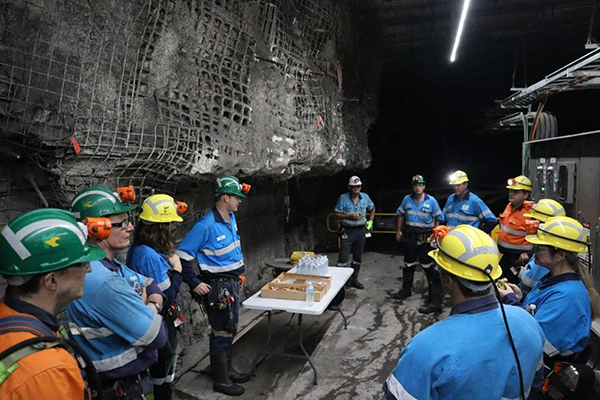 Kestrel hosting morning tea underground with ACE partners and Headspace Emerald representatives.
As each of the four maingate conveyors are delivered to site, Kestrel and ACE are presenting their selected charities with a combined donation.
The latest conveyor, engineered and supplied by ACE, is painted green in support of Headspace Emerald. As an organisation that works tirelessly to support people's mental health, physical well-being, and overall development, Headspace Emerald is a very worthy charity of this support.
ACE Mackay Branch Manager, Scott Manley, commented on the business' pride in being part of the Community Conveyors initiative.
"Our latest green conveyor is a nod to the awesome work done by Headspace Emerald. It will serve as a constant reminder to team members on site of the important services they offer.
"Being part of Fenner Conveyors and the broader Michelin group in Australia, we firmly believe in the power of partnerships that not only drive business growth but benefit the communities we operate in," Manley explained.
"This initiative is not just about efficient materials movement; it's about building connections, boosting morale, and brightening Kestrel's sites with the colours of community spirit."

Mock up of green conveyor equipment at ACE Mackay facility, prior to installation on site.
Each conveyor is painted to represent and celebrate the local community groups that make Emerald shine.
Senior Projects Manager, Sean Stevenson, commented on ACE recognising the importance of early intervention and providing team members with the tools to manage mental health effectively.
"We extend our gratitude to Headspace Emerald for their consistent commitment to the well-being of our community.
"As both ACE and Fenner Conveyors continue to serve industries with cutting-edge conveyor equipment, we remain equally devoted to uplifting our communities," said Stevenson.
"With each conveyor revolution, let it remind us of the importance of keeping a positive head space on track."

Melissa Kemp, from Headspace Emerald, inspecting green conveyor underground.
Next up is the third conveyor, painted purple in honour of Emerald Neighbourhood Centre.
Find out more about the #CommunityConveyors campaign here: