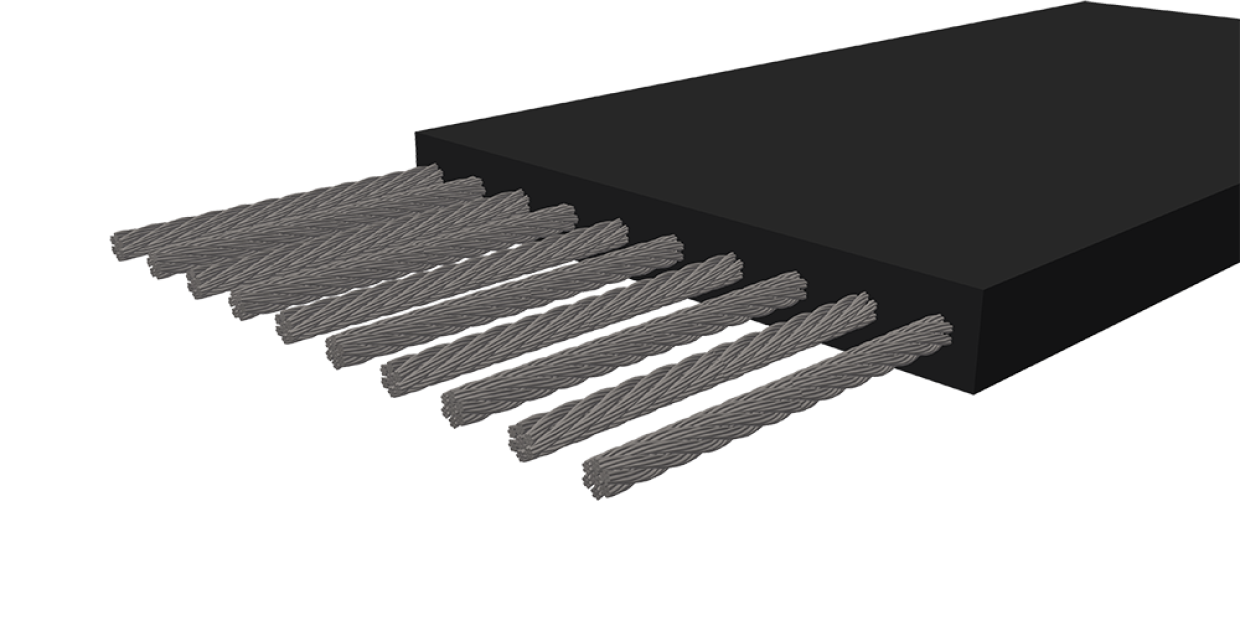 Steel cord conveyor belt carcass designed for the highest tension applications.
Market Applications
Hard Rock
Heavy Metals
Aggregates
Crushed Stone
Fenner Conveyors' Steel Cord is engineered with a single plane of carefully constructed, pre-tensioned steel cords, capable of conveying the toughest loads over the longest distances and at the
highest tensions.
Steel Cord belting is manufactured at our plant in Kwinana, Western Australia. The facility houses three of the world's largest steel cord press lines, with the capability to produce Steel Cord up to 3200mm wide and 50mm thick.
Reasons to choose Steel Cord belting
Tension capabilities
Highly efficient, precision-engineered steel cords with belt operating ratings up to ST10,000.
Product Quality
Superior results come from the finest materials, meticulous testing, and the best quality control.
Unique design
Thanks to individually pre-tensioned cords with alternating twists, we position cables uniformly in-plane for optimum belt tracking.
Custom made
Our steel cord beling can be manufactured up to 3200mm wide and up to 70 tonnes roll weight - the heaviest you'll find in Australia!
Adhesion & corrosion protection
Cable corrosion protection is assured with zinc plated steel cords and high-pressure curing.
Minimal elongation
Belt elongation less than 0.25% of conveyor centres.
Unsurpassed performance
The finest materials, design, manufacturing, and quality control make a problem-free, premium belt.
Resources
K3 Third Press Line Flyer
Reduced Lead Time & Supply Chain Security
Manufacturing belts in Australia allows us to support you better, because we can offer faster delivery, cheaper transport costs and less supply chain risk that can affect local and overseas ports. Our high production output caters for urgent deliveries with lead times on steel cord belts as low as 14 to 28 days.
We are also strategically positioned to support the developing markets in Asia, Africa, India and South America as well as Europe.
After sales service and support
Our extensive conveyor belt, equipment and accessories range is supplied through Australia's largest service branch network, with factory trained and accredited installation, maintenance and diagnostic teams. We assist our customers to minimise costly loss of production or unnecessary shut-downs and ensure maximum performance outcomes.
Contact us or your local Fenner branch for more information.