Statewide Belting Achieves Safety Milestone
Fenner Conveyors' Tasmania-based operations, Statewide Belting, have reached the safety milestone of recording 365-days recordable injury-free.
When asked what actions helped the team achieve this milestone, Branch Manager, Jason Smith said safety comes from leadership.
"Our senior team has been creating an environment where employees are encouraged to slow down, review the hazards and brainstorm ways to overcome the risk," Smith explained.
"We needed some defense-in-depth to quantify and track that our team were taking safety seriously. This is why we introduced the Take 5 digital reporting app across all Statewide branches."
All team members have the app on their phones and are required to review risks and identify controls before commencing work.
"Doing this has helped us maintain safety in our top risk areas of: isolation, manual handling and under-foot conditions," explained Smith.
The Statewide team consists of 33 individuals, based across service centres in Camdale, Derwent Park and Bell Bay. Collectively, the three locations provide conveyor services to customers across the entire State, including various mines running 24/7. Services include the replacement of large conveyor belts, rubber lining, alongside the manufacturing of high-end pulleys. This work is done regularly and is considered a high-risk activity, due to the repetitive work and heavy lifting.
"The team have focused on proper lifting of equipment," said Smith. "We inform customers when we need to increase labour on-site in order to maintain safety using sometimes awkward and difficult to maneuver equipment. We will never compromise safety just to get a job done."
When someone isn't sure how to properly lift, lower, push, or pull, they can get seriously injured – either immediately or over time. Taking the time to learn handling skills is often overlooked, which is why manual handling has become the cause of over a third of workplace injuries here in Australia.
The Statewide team have been conducting training sessions through Fenner Conveyors' safety program, SafetyCircle, to help team members understand how to approach manual handling work correctly.
National Injury & Wellbeing Coordinator, Emma Mulhern, organised a local physiotherapist to come to the workshop for a Safe Manual Handling and Injury Prevention Education sessions, to demonstrate practical techniques when moving and assembling vulcanizers in challenging situations. These hands-on exercises make it easier for team members to introduce new habits into their day-to-day work life.
"Injury education and workplace safety go hand-in-hand. The interactive manual handling sessions made it easier for team members to understand the importance of introducing new habits into their day-to-day work,' said Mulhern.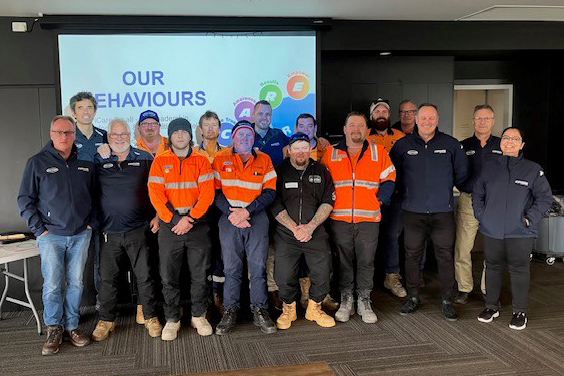 Statewide Belting leadership team at training program.
"I am very proud of our team," said Smith. "It's important to celebrate our wins and give credit where it's due. One of the ways we do this is by giving out monthly Take 5 awards."
"Recognising and celebrating this milestone demonstrates Fenner Conveyors' commitment to our people working safely and going home to their families at the end of each day."