Belle Banne Delivers Electric Belt Puller in the Pilbara
Belle Banne has designed a specialised belt puller for service work in the Pilbara.
Conveyor belt system solutions provider, Belle Banne, has been servicing Pilbara-based customers for over 25 years. Privy to the unique operating climate, Belle Banne has designed a specialised electric belt puller from the ground up.
Belle Banne's first generation belt puller was developed in the late 1990s and first used in the Pilbara in the early 2000s. Designed to pull belts with more force than could be managed by conventional equipment at the time, it was not long before the machine was in use throughout Australia and setting the industry standard.
Technical Manager at Belle Banne, Trevor Vuillermin, explains that while the design was effective, it did come with some inefficiencies.
"The machine was powered by separate hydraulic power units that had to be connected and disconnected each time they were used. Due to the environment common in mining locations, there were challenges in keeping contamination out of the hydraulic system."
"The environment that this equipment has to work in is often very hot and dusty, making hydraulic equipment not as effective when you have to fit hoses and prevent contamination."
"When used for long periods of time in higher ambient temperatures such as that in Western Australia's Pilbara region, overheating was sometimes creating issues."
Belle Banne is now levelling up with an upgraded design, utilising VSD technology to eliminate the need to connect to a hydraulic system and circumnavigate the challenges associated with high ambient temperatures.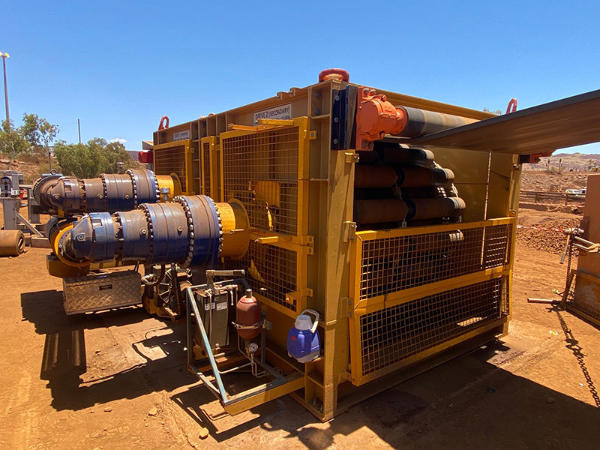 "Modern VSD designs have come a long way – you can virtually create the same performance with electrical systems as hydraulic systems, removing the need for assistance from fitters or electricians to operate the equipment."
"You only need to plug into standard welding outlets and you're good to go."
This also means the machinery condition is easy to maintain, especially in an environment which is working against you.
While the machinery can pull an impressive 36 tonne, the unique design is easily transportable and simple to operate, with only two pieces to bolt together.
"Due to its size the puller must be split into two pieces. These pieces were designed to be modular and compact, so that teams could pick up and load onto a truck or off-load at site. Both fit easily onto a standard truck for road transportation," Vuillermin explains.
The belt puller was fully tested at Belle Banne's manufacturing facility in Traralgon, and first used on site at Rio Tinto's Tom Price Mine.
The manufacture of a second machine is currently underway at Belle Banne's Traralgon facility, for commissioning in January.
This highly specialised equipment is an example of Fenner Dunlop and Belle Banne's ability to deliver high quality, customised solutions for mining customers.