Fenner Invests in New Safety Equipment at Footscray Factory
Fenner Conveyors has recently invested in new safety equipment at its belting factory in West Footscray. The upgrade includes a new safety gate located at the plant's Rotocure.
Footscray is Fenner's premier manufacturing location for high-quality, fabric belting – a product which requires operators to perform a complex production process safely.
When a belt is cured from Rotocure 2, operators are required to open the handrail gate which enables the belt to be craned towards the Inspection table. There is inadequate lifting height for the belt to go over the handrail, so it's vital Fenner has a method for moving the belt into place that ensures the integrity of both the belt and the operator.
Footscray Plant Manager, Hong Koh, said the hazard was raised by a Fenner Operator concerning exposure to falling from height when opening the old handrail gate.
"Once we were alerted to the hazard, our team moved promptly to find a solution. Investing in safety is investing in our people," said Koh.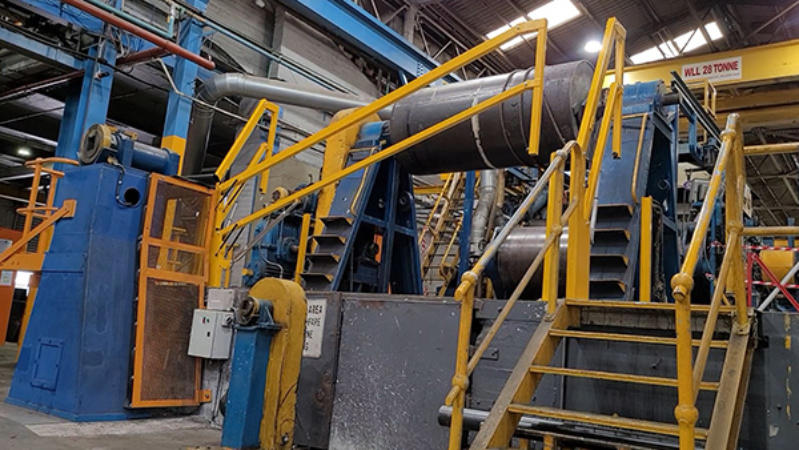 New handrail gate in-use at Footscray factory
The new equipment was thoroughly evaluated by Fenner prior to implementation. Once the hazard was assessed, an Authority to Modify document was raised to involve all stakeholders, and a design review was completed for approval to raise a CAPEX.
During the equipment commissioning, consultation took place with the working group and HSR to ensure that the new process for operating equipment did not leave operators exposed to new hazards.
"Consultation with the Footscray workgroup allowed us to find the best-case solution. Our operators are the ones that know when a hazard exists in the workplace and are the best candidate to provide a solution for it," explained Koh.
Following this, a One Point Lesson document was created to provide a simple work instruction for the Team to safely operate the new handrail gate.
Footscray Safety and Training Coordinator, Darren Santospirito said that with the new equipment now embedded in operating processes the Footscray Team are seeing the benefits.
"As well as removing exposure to the fall hazard, we have eliminated strain caused by manually pushing and pulling the handrail gate."
"Fortunately, no incidents occurred with operators falling from height whilst operating the old handrail gate. While it might not be the most hazardous task in the plant, it does have the potential to injure someone with high severity – something we at Fenner are invested in avoiding," said Santospirito.
This new equipment came from the imbedded safety culture of 'hazard hunting' to identify hazards and find solutions to eliminate or reduce risks in the workplace.
"We are thrilled to have this new equipment at Footscray, making our factory a safer place to work," said Koh.
"And we are proud of our TEAM for working together to find a solution. Like Steve Jobs said, 'Great things in business are never done by one person. They're done by a team of people.'"