Fenner Celebrates a Decade at Kwinana
rticle published by Australian Mining
Australia's mining industry has gone through notable evolution over the past 10 years. From the wax and wane of the nation's boom to the rise of the driverless truck, the sector has changed considerably.
Conveyor specialist Fenner Dunlop was in on the ground floor of this transition in 2009 when it developed its Kwinana manufacturing plant in Western Australia.
Designed as a manufacturing facility for conveyor belts, the plant was built to accommodate mining clients in the Pilbara region, saving them significant time by being able to order belts from a local supplier.
Fenner Dunlop's choice of location, use of advanced technologies and $70 million budget set the plant apart from its competition at the time.
Now celebrating its 10th anniversary, the Kwinana plant was not only innovative when it was commissioned, but was also built with an eye to the future.
To this day, the Kwinana plant is the most expensive investment made by a conveyor belting manufacturer in Australia. While it was arguably a risky investment at the time for Fenner Dunlop, it is one that has paid dividends in the years since.
The construction of the high-tech plant has accompanied the rise of the Pilbara as a premier mining region, particularly for commodities such as iron ore and gold.
"For us, Western Australia was where all the action was," Fenner Dunlop Australia managing director Graham Lenz tells Australian Mining.
"It gave end users some key benefits in just naturally being that close to their facilities. We were — and still are — so much closer to them than anyone coming from Asia or anywhere else in the world so that was a natural fit."
The end users of the Kwinana plant's conveyor components have taken advantage of considerably shorter lead times than they were previously accustomed to when using overseas suppliers as it meant they weren't reliant on shipping.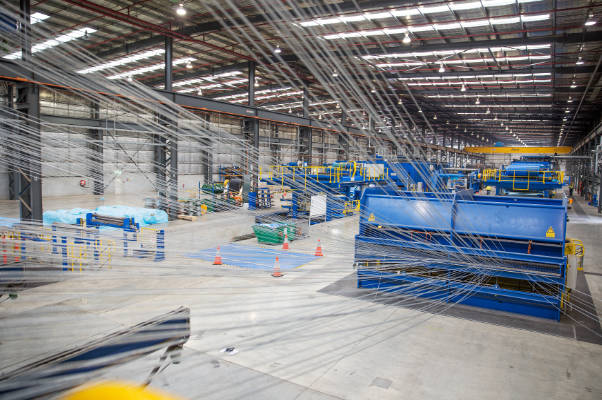 The shorter lead times in turn allowed mining operations to cut down on their working inventory due to faster and more reliable supply chain.
Lenz says the logistical advantages, in addition to the sheer scale of the operation, allowed Fenner Dunlop to push its manufacturing to the limit by delivering some of the biggest and heaviest conveyor belts ever built.
This culminated in the record delivery of a 580-metre roll of UsFlex ply belt in March 2019, a design accompanied by a 2.8 metre by six metre belt reel that was specially built by Kwinana-based Fenner Dunlop subsidiary JAF Engineering.
Following a $20 million expansion in 2013 that added a second press line, the plant boasted the capability to produce steel cord and rubber ply belting up to 3200 millimetres wide and 50 millimetres thick.
The plant was built with the space to accommodate another three expansions and according to Lenz, there's room for much more growth.
"The plant was built with cutting-edge technology — that was what made it very special back then and still special today," Lenz explains.
"We spent around $16 million then to put extra capacity into Kwinana in 2013 as a vote of confidence in the market, and since then we have invested heavily in innovative technology for greater efficiency and greater throughput."
Fenner Dunlop's expansion at Kwinana will continue beyond the site's 10th anniversary. The company plans to leverage a deal of innovative upgrades over the next decade, with a host of upcoming developments in the pipeline (Lenz prospectively hints at the plant's potential for solar investment, for example).
The company's sizeable investment in the plant has not, however, been to the detriment of its older Australian facilities.
Fenner Dunlop's Melbourne facility has recently gone through an extensive retrofit to implement Industry 4.0-driven smart technologies, for example.
The company has built its service offering over the past decade through a series of engineering-focused acquisitions, such as the aforementioned JAF; the Belle Banne group of companies, acquired in 2010; Statewide Belting, acquired in 2011; and Australian Conveyor Engineering (ACE), acquired in 2012.
In January 2019, Belle Banne Conveyor Services in turn purchased Victoria-based manufacturer Conveyor Pulleys Australia (CPA), further expanding Fenner Dunlop's range.
Lenz believes the company's philosophy supports the mining industry with the best engineering solutions and designs to support conveyors in total, not just the belts.
"CPA can handle pulley and structure — you've got to get that right. One thing that all our acquisitions have in common is that they can do engineering, refurbishment, overhaul and manufacturing of conveyor systems, including the electrics," Lenz says.
"We've invested heavily in engineering-focused businesses and products in the time since we built the Kwinana plant. All the things that support the conveyor — and everything that sits under it — is where we've concentrated our efforts over these last 10 years."
This engineering focus runs parallel to Fenner Dunlop's evolution as a trainer and service provider. As a registered training organisation (RTO), Fenner Dunlop expanded its remit last year to include mechanical services training in addition to conveyor technician training.
The company's RTO status has aided its launch of the Engineered Conveyor Solutions (ECS) arm of the business, envisioned to provide long-term, post-installation support for conveyor setups using in-house technicians.
This top-to-tail approach helps eliminate 'the blame game' that can arise during periods of equipment breakdown when sites are reliant on multiple suppliers. The consequence of this back-and-forth interaction is that it exacerbates already costly downtime scenarios due to wasted time.
"Thanks to the ECS approach, we have embedded a lot of our in-house engineers on customer sites, which allows us to tailor these solutions right down to the individual conveyor," Lenz says.
"If a customer has a particular mining conveyor where they can get energy savings from, say, low rolling resistance or high impact resistance, we can accommodate that."
And what of the next decade? According to Lenz, the evolution of Fenner Dunlop over the next 10 years could be even more radical than the previous one as concepts such as the Internet of Things (IoT) and the continued electrification of the mining workplace becomes more common.
Given the pace of change in the industry at present, perhaps it won't be too long before we see 'the new Kwinana'.
"Electrification is a big part of it. We're starting to see some changes now, but the big trucks and trains are largely diesel driven, whereas conveyors have always been electrified," he explains.
"So, because we've already got electrification and automation covered, we are always thinking about how we make conveyors smarter.
"In the future, we anticipate smart factories that have the ability to allocate construction slots based on knowing when something's going to wear out so you can begin to build the solution before it becomes a problem.