Fenner Gauges Conveyor Belt Performance with BeltGauge
Article published by Australian Mining
Fenner Dunlop explains how its iBelt technology solutions such as BeltGauge and Digital Hub are helping mining companies to take earlier action to prevent conveyor belt damage and access monitoring results in real time.
When a Pilbara iron ore producer experienced abnormal wear to one of its conveyor belts, it approached Fenner Dunlop to find a better solution than conducting thickness testing every 12 weeks during planned maintenance shutdowns.
The belt, valued at hundreds of thousands of dollars, should have an expected life of two years, but because of the rate of abnormal damage, it was looking like barely reaching half that.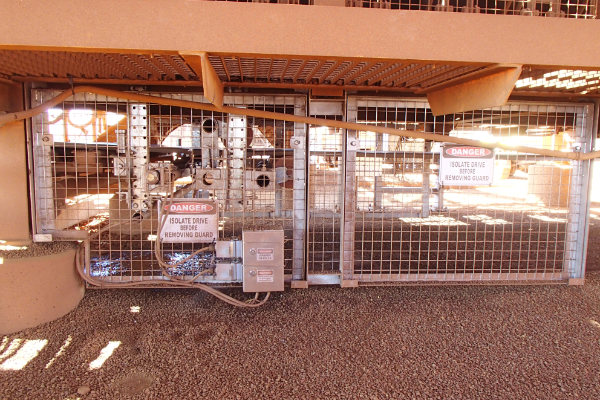 Once Fenner Dunlop verified the issue, it was able to help the customer to put a strategy in place for the short and long-term, elongating the current conveyor belt's expected life by an additional three to six months. It also has generated the opportunity for the issue to be Engineered out, optimising the belt's performance.
Checking the belt thickness at 12-week intervals left too much time between checks for further damage to occur, so Fenner Dunlop installed the BeltGauge diagnostic device onto the system.
As one of Fenner Dunlop's iBelt technology solutions, BeltGauge was used allowing the miner to quickly identify that the skirt was responsible for the abnormally high rate of wear on the belt.
Fenner Dunlop Conveyor Technology manager Samuel Wiffen says once BeltGauge helped to identify the issue, the company was able to recommend a range of solutions to extend the troublesome conveyor belt's life by more than 30 per cent.
"With BeltGauge autonomously checking, monitoring and calculating where, if anything could jeopardise the belt life, companies are able to get on top of the issue before it destroys their belt," Wiffen tells Australian Mining.
"If BeltGauge comes across an issue, it creates an event which issues the customer a notification via SMS or email and displayed in DigitalHub, which is the application where customers view the monitoring results.
"BeltGauge and DigitalHub combined allows the customer to better manage their conveyors performance with ease. It's all about intelligent conveying."
Traditionally, this diagnostic process was completed manually by specialist Technicians but with BeltGauge, Fenner Dunlop and its clients can autonomously check conveyor belt condition 24/7.
This was then distributed as a PDF report via email, which often meant the data being received was one to two weeks old, and results may be outdated or inaccurate.
In the case of Fenner Dunlop's Pilbara iron ore client, after analysing the data collected in DigitalHub, the site opted to repair the belt and set up users within DigitalHub to allow the maintenance team to monitor the belt wear via the web portal.
With DigitalHub, results are online and immediate, so the iron ore client could access the data from its head office in Perth, on the mine site or even from a different site, allowing the team to work together and take immediate action in the event of belt damage.
"BeltGauge empowers our customers to be able to react in almost real time and make data driven decisions on what is the best course of action," Wiffen explains.
"Data intelligence and autonomous monitoring are creating big shifts in the conveyor industry at present. With our intelligent conveying approach, we have given the customer the ability to access its conveyor system data without any complex integration or impact to their IT networks.Our solutions are full turn key, managed and supported by Fenner Dunlop."
How external influences impact conveyor belt life is an industry trend that Fenner Dunlop has monitored over the years, helping the company evolve its technology and diagnostic tools to mitigate the risks.
"The business made a commitment in 2020 to further develop its technology and diagnostic tools so we can start assessing these issues early, not after the fact as it is happening," Wiffen says.
"For many years now Fenner Dunlop has had a range of diagnostic tools, one of them, Online Thickness Tester (OTT) was the former to BeltGauge.
"We had been using OTT to scan belts since 2013 so the timing was right for the business to review its diagnostic tools and made a commitment bringing them up to the next generation of conveyor technology solutions."
The new BeltGauge was then piloted at Fenner Dunlop's Kwinana factory training conveyor, before being sent to the Pilbara iron ore site to complete a fully operational test.
Now that BeltGauge has successfully helped the mine to mitigate the issue and extend the belt life by 30 per cent, the tool is commercially available in 2021.
Wiffen says Fenner Dunlop's agile approach to technology enabled the company to develop, trial then deliver the BeltGauge solution within 16 weeks.
"BeltGauge and DigitalHub are the first of our next generation iBelt solutions with many more to come. We're really excited for some of the projects coming next year that will further enable intelligent conveying outcomes for our customers," he concludes.