K3 Open Day: Fenner Conveyors Officially Opens Third Press Line at Kwinana Factory
On Thursday, 2 March 2023, Fenner Conveyors officially opened its third press line (K3) at its conveyor belt factory in Kwinana, Western Australia.
More than 100 customers, government representatives, and industry stakeholders were invited to the factory to celebrate the achievement for Australian manufacturing and see the press line in action.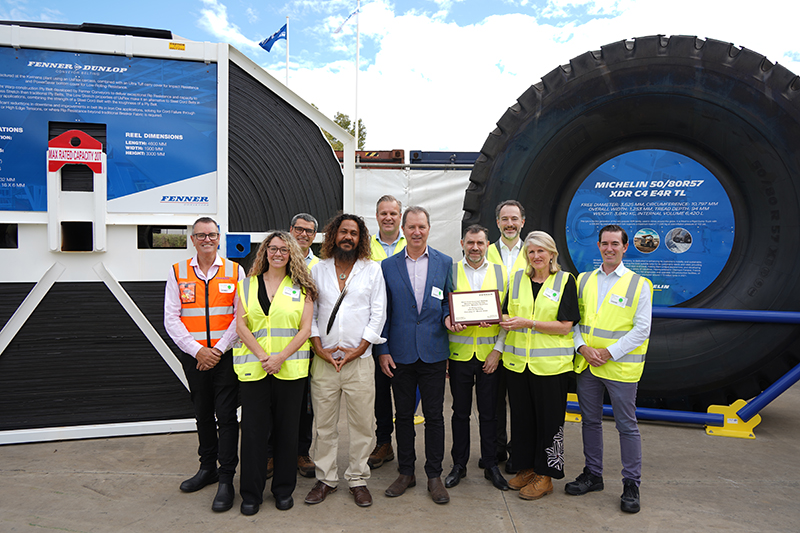 Pictured: (Left to right) David Landgren, Jessica Shaw, Rogerio Cortes, Brent Matters, David Hickey, Graham Lenz, Serge Lafon, Manuel Fafian, Cr Carol Adams, Oliver Biggart.
Fenner Conveyors operates as part of the Michelin Group in Australia. Executive Vice President of Michelin, Serge Lafon was proud to celebrate the milestone with the team, while confirming Michelin's commitment to supporting Fenner Conveyors' growth in Australia.
"Fenner Conveyors plays an important role within the Group's operations. In Australia, we hold 7 manufacturing facilities, 6 of which operate as part of Fenner Conveyors," said Mr Lafon.
"The marriage of Fenner Conveyors with Michelin is complimentary; we share a passion for market-leading performance, innovation, and our people – whether part of the team or the customers and shareholders we deliver to."
"Fenner Conveyors and the achievement of this new press line represents our ambitions to further strengthen our 'Beyond Tyres' offering and support customers in maximising the value they derive from our products, services, and innovations."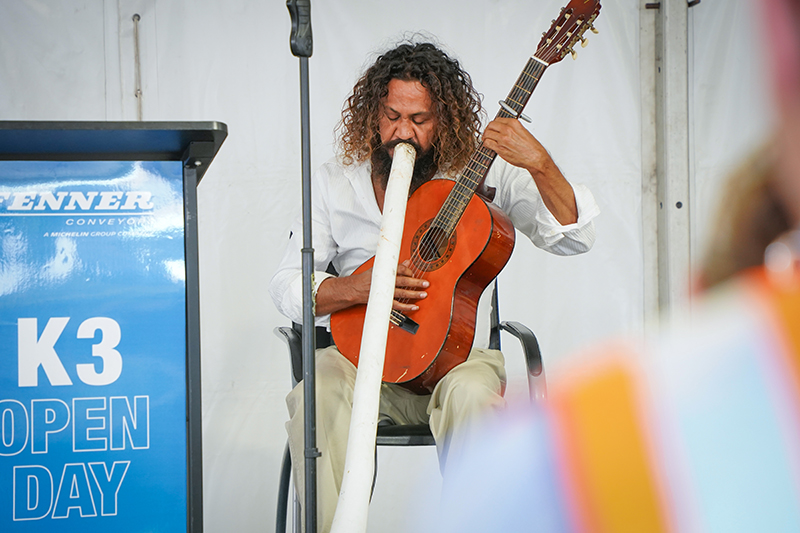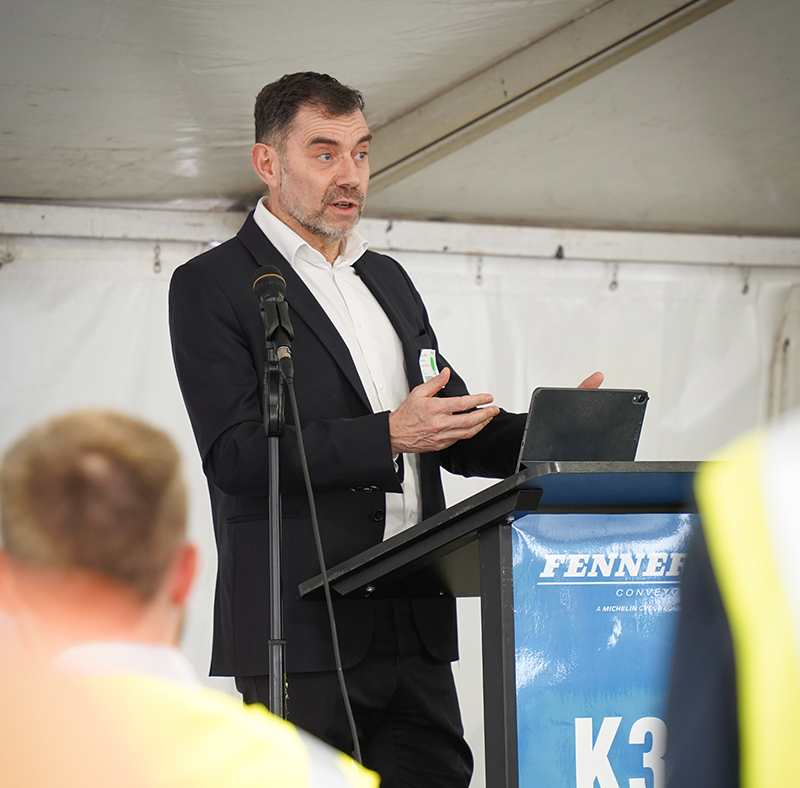 Pictured: (Left) Brent Matters opening the event with a Welcome to Country, (Right) Serge Lafon, Executive Group Committee Member, Michelin Group, speaking to guests.
The event was attended by the City of Kwinana Mayor, Carrol Adams.
"Over 30,000 people are directly or indirectly employed within the Western Trade Coast precinct. Of those, two thirds live within 15 kms of their workplace, which emphasises how important this local region is to the manufacturing and trades industry of Western Australia," Councillor Adams commented.
Also in attendance on the day, Parliamentary Secretary to the Deputy Premier; Minister for State Development, Jobs and Trade; Hydrogen Industry; Tourism; Science and State Member for Swan Hills, Ms Jessica Shaw said facilities such as Fenner Conveyers' new press line demonstrate the State's ability to meet growing economic demands, both within Australia and internationally.
"I continue to be amazed at the talent available in Western Australia and the world leading facilities being developed across the State. With companies such as Fenner Conveyors and the broader Michelin Group, Western Australia is well placed to leverage and benefit from future opportunities," said Ms Shaw.
"Education and training is a key priority of the Western Australian Government and I understand that Fenner Conveyor's facility is a Registered Training Organisation (RTO). Such RTOs provide opportunities to grow the State's skills base and pathways for those wishing to pursue education within your sector."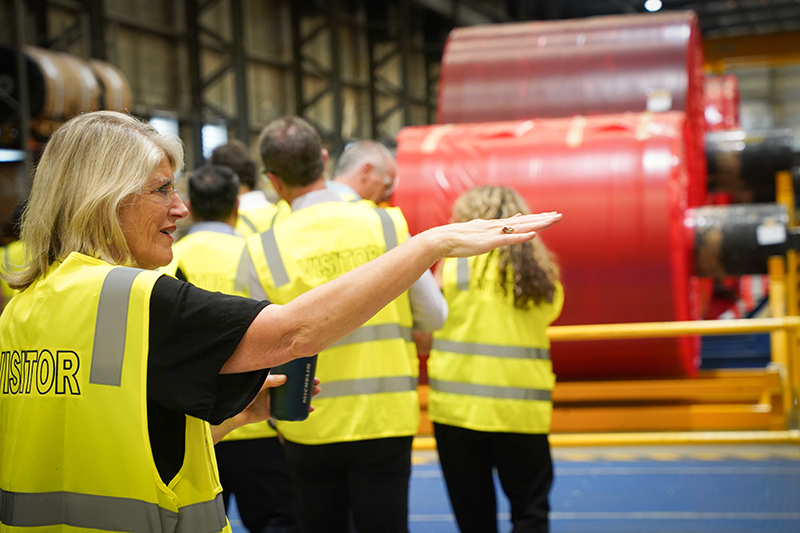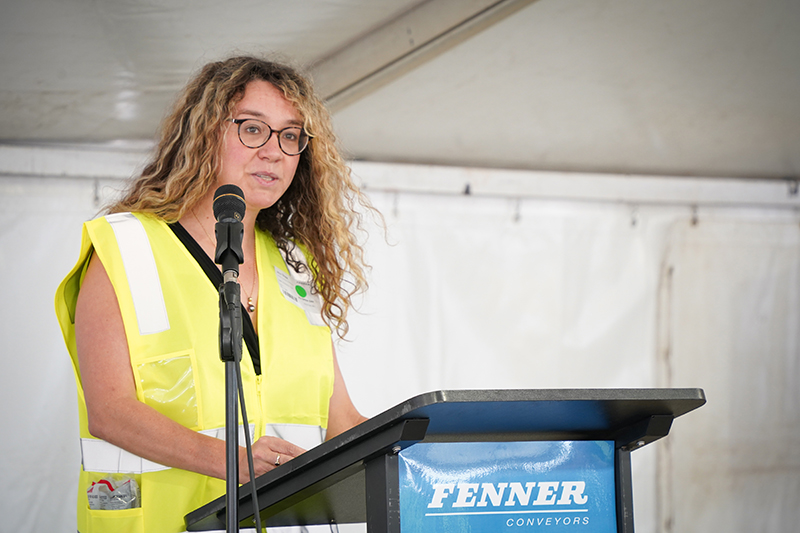 Pictured: (Left) City of Kwinana Mayor Carol Adams during facility tour, (Right) Western Australia Parliamentary Secretary Jessica Shaw addressing guests.
Fenner Conveyors Managing Director, Graham Lenz said the business will continue to invest in Australian manufacturing and the creation of opportunities for its people.
"Over the last 15 years we have watched the facility and team at Kwinana grow. From our humble beginnings in Western Australia based out of the second floor of a denist just a few blocks from where we are based today, to now operating the largest steel cord press facility in the southern hemisphere."
"Today, Western Australia makes up more than 30% of our workforce. It's home to 30% of our manufacturing team, just over 30% of our national service team, and last year with our investment to bring Conveyor Products & Solutions (CPS) into the Fenner family, WA is home to more than 50% of our engineering team."
"K3 won't be our last investment in manufacturing, training and engineering to support our customer's evolving needs; we consider the Mining and Resources Industry in Western Australia and our valued customers, something we want to, and need to continue investing in."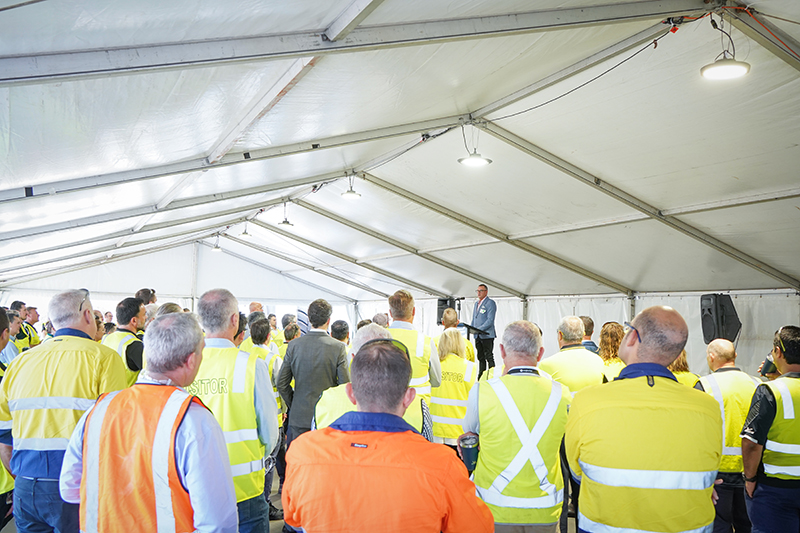 Pictured: David Landgren, Executive Director, Fenner Conveyors welcoming attendees.
Fenner Conveyors Executive Director, David Landgren said the Opening was a great opportunity to demonstrate to customers the business' commitment to sustainable manufacturing.
"We used 14,000 tonnes of rubber in the Kwinana factory during 2022 – the majority of Natural Rubber is supplied from Michelin, which is certified sustainable. This makes up 50% of the Group's purchases by 2025, which will be increased to 80% by 2030."
"We refer to Kwinana as a 'state-of-the-art' factory because it combines innovative manufacturing equipment with sustainable operating techniques."
The line was constructed through a partnership with Siempelkamp, featuring the latest in conveyor belt manufacturing technology, allowing Fenner Conveyors to deliver a new level of belt customisation for its customers.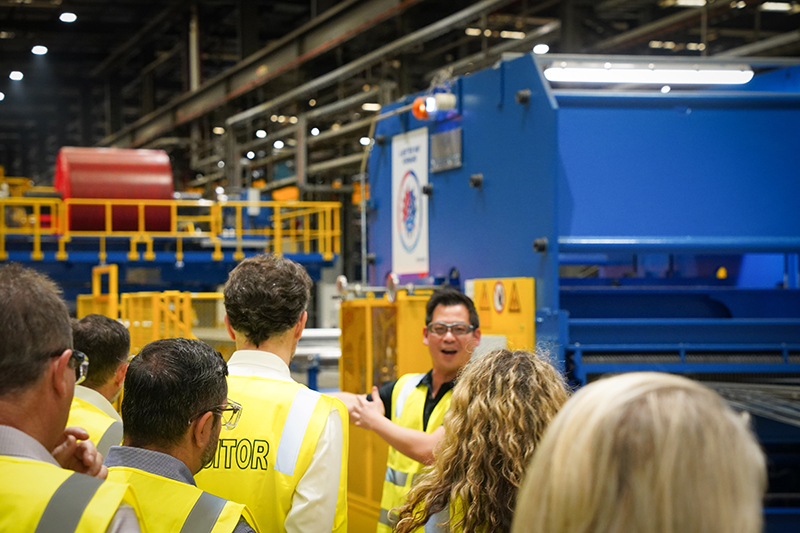 Pictured: Hong Koh, Director of Manufacturing, presenting the K3 line to guests.
Part of Kwinana's success and efficiency stems from its strong safety culture. Manufacturing Manager, Hong Koh said 20,000 man hours were spent during the construction of the third press without a recordable safety incident, and during this time approximately 85 jobs were created within WA trade fields.
"The line expands our manufacturing capacity by 40%, and to reach full production we are ramping up recruitment and training for our manufacturing personnel."
"We are also focused on investing in our WA Leaders. Our best-practice Supervisor Program for Field Service personnel has been expanded with a fit-for-purpose program for Manufacturing and Engineering personnel, which will significantly support the continued growth and development of our WA team."
Last year across its three conveyor belt manufacturing facilities, Fenner Conveyors produced more than 540,000 metres of belting, with more than 40% of that produced at the impressive Kwinana facility.
That's a lot of belt – which is exactly why Mr Lenz said the business decided to invest further and commission the third press line.
"It allows us to deliver for market demands and the specific needs of our diverse customers across Australia."
"There's been much excitement within Fenner Conveyors over the last year in the lead up to this event. We are so happy to formally bring all of you here today and show you this investment which we are so proud of."
Following a formal Welcome to Country given by Brent Matters, and speeches and refreshments from local catering company, Gather Foods, guests were taken on a tour of the Kwinana factory to see the press line up-close and in-operation.
"Thank you to each and every member of the Fenner Conveyors team who made the commissioning of the third line and the event today possible; your dedication and passion for work and our industry enables us to reach successes such as K3."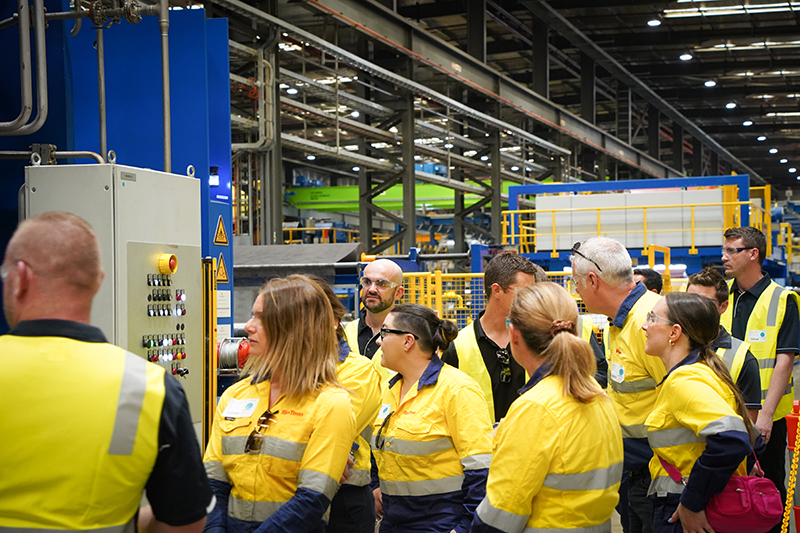 Pictured: Open Day guests on tour of Kwinana factory.