Wollongong Expansion for Fenner
Article published by The Australian Mining Review
Fenner Dunlop's NSW branch recently relocated to a massive new facility in Port Kembla, Wollongong, situated on 6000sqm of land with a 1600sqm high roof facility.
The convenient location on 2 Flinders Street, adjacent to the Bluescope Steel Plant, gives the company unparalleled access to the main roads that service the wide variety of Fenner Dunlop's many clients – from underground mining, coal washeries, steel manufacturing, hard rock mining, quarries, cement mills, foundries, plasterboard manufacturers, coal terminals, tunneling projects and many more.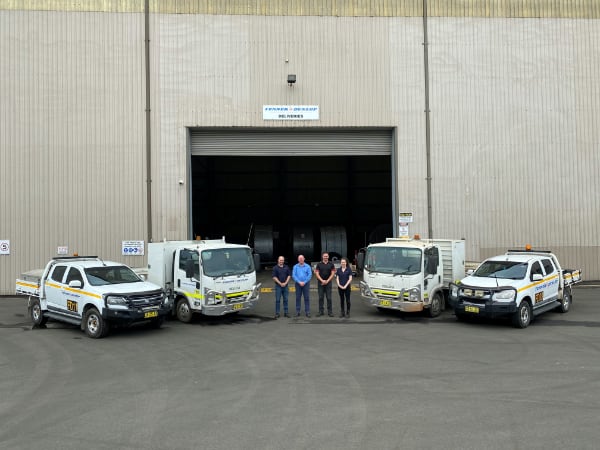 The facility has two 25t overhead cranes that gives it the unique advantage of lifting capabilities that can not only store, but handle conveyor belts up to and over 25t as required; and when coupled with Fenner Dunlop Wollongong's largest stands and winders, the company can handle up to 50t rolls of belt, with the hard stand space giving a major advantage for the storage of refurbished belts and various other customer requirements.
The Wollongong branch also stocks more than $1m worth of inventory of conveyor spares to service local industries, and if Fenner Dunlop doesn't have the parts in stock, the team will source specialty products and have them delivered in a timely manner to customers.
Branch manager Peter Reed said that the company is fully capable of end-to-end services. "Everyone knew Fenner Dunlop as a belting company, we are the only conveyor belting company to manufacture the complete range of conveyor belts in Australia," he said.
"In 2012 we rebranded to become Fenner Dunlop Engineered Conveyor Solutions (ECS), the company started to acquire local businesses from 2008 and by 2012 we were able to do more than belts.
"Today we are a "one-stop shop", or like we say "head to tail" business, we do everything connected to a conveyor system – from the electrics, pulleys, engineering and belts.
"The benefit of this is that our customers only have to deal with one supplier for everything.
"Although the ECS model was implemented seven years ago, we have customers that still don't know that we can do it all.
"In Wollongong, we have a fully equipped belt service branch with 36 total employees and 27 highly trained and skilled belt splicers from trainees through to level III, leading hands, supervisors along with site-specific coordinators.
"We have an experienced management team and are supported nationally for belt supply, technical expertise or any other conveyor specific requirement.
"We are growing, and in the new year looking at taking on at least another four new employees."
When South32 needed a belt install and splice completed in 24 hours at its Westcliff Washery Plant on CV1-45 conveyor, they called on the Fenner Dunlop Wollongong branch.
The project included the installation of a new drive pulley and alignment, supply and install of 660m of 1200mm wide belt in one reel and splicing on the system.
Customer feedback was that Fenner Dunlop's 50t belt stand really proved the point of difference for the project.
"It could hold the 4.8m-long belt reel in the stand" he said.
"The branch equipment was really put to the test, and we were able to install the belt in one length meaning there was only one splice, less downtime and less risk of splice issues with a single, continuous length of belt.
"The project was led and completed 100% in-house by Fenner Dunlop's Wollongong service team."
Looking forward in 2020, the company will be working with its new neighbour, Bluescope Steel, after being awarded the contract for the Blast Furnace 501 belt installation and splicing. This involves installing a 76T mega roll of belt onto the conveyor system during a 48hr shutdown.
The project will begin in March 2020 with much of the pre work already started, and the Wollongong branch will team up with Belle Banne Conveyor Services and utilize their specialised equipment and engineering services to complete the project in a safe and timely manner.
And Mr Reed said that the company will continue to work with South32 again in the near future.
"Fenner Dunlop has been awarded the installation and splicing of a large South32 drift belt, a major steel cord belt installation and splicing project which brings together three distinct areas of the Fenner Dunlop business nationally, Belle Banne Conveyor Services Project Group along with Jon Adam Brodie from our Mackay Project team leading the splicing and supported locally by Fenner Dunlop Wollongong," he said.