Covid-19 – Fenner Supply and People Management Strategy
Fenner Dunlop Australia continues monitoring and preparing for the impact of COVID-19 on this country. This action has been undertaken by the Management teams of Fenner Dunlop since early February 2020 and includes the establishment of a Crisis Management Team (CMT) to oversee and manage this ever-evolving crisis. The CMT is currently meeting daily to ensure compliance with the measures outlined below and to consider whether further actions are required.
The purpose of this document is to provide customers with an understanding of the business risks for Fenner Dunlop supply associated with COVID-19 and how they are being managed.
To date the COVID-19 has not had a material impact to Fenner Dunlop's ability to supply product. At this point, Fenner Dunlop does not expect it to have a material impact on future supply, based on the latest available information. While this may change given the evolving nature of the COVID-19, the structure of the business, the diverse supplier strategy and the contingencies available mean Fenner Dunlop is relatively robust to any supply interruption from COVID-19, as you will see outlined below.
To date there has been no evidence of Fenner Dunlop employees testing positive for COVID-19. Fenner Dunlop has directed employees and management to comply with the Australian Government Department of Health Guidelines (www.health.gov.au) and put in place enforcement actions, outlined below. Given that COVID-19 is evolving we expect these actions will also need to evolve and therefore have developed plans for next steps if required.
Management of Business Risk
Supply Risk Management
Fenner Dunlop manufactures conveyor products in Australia. This reduces risk to customers, both supply and freight. As a low risk local supplier Fenner Dunlop has already had enquiries from many customers toensure supply of our proven Australian made products and services.
Fenner Dunlop has belt manufacturing facilities in Melbourne, Kwinana (WA) and Sydney. The diversity and regionalisation of supply points reduces the risks to supply in the event a single facility is
If one or more of the Australian belt manufacturing sites were to be affected by COVID-19, Fenner Dunlop hasbelt manufacturing facilities in South Africa, India, Canada, United States of America, Netherlands and United Kingdom. Fenner Dunlop also has established supply chains to source conveyor belts from third party suppliers (Duracon product).
Fenner Dunlop has been in weekly contact with all suppliers since early February 2020. Fenner Dunlop maintains a multi-region supplier strategy, sourcing the same inputs from suppliers within Australia and
In summary, Fenner Dunlop is institutionalised as a low risk supplier through its local, diversified manufacturing base, with international contingency and through its multiple supplier strategy. While COVID-19 will evolve, Fenner Dunlop is well placed to manage risks.
Employee Risk Management
As shown below Fenner Dunlop is a set of regionally diverse business units. This regional diversity gives Fenner Dunlop the ability to isolate affected businesses, while still servicing local customers with staff from other service businesses. There are approximately 1000 employees at Fenner Dunlop Australia.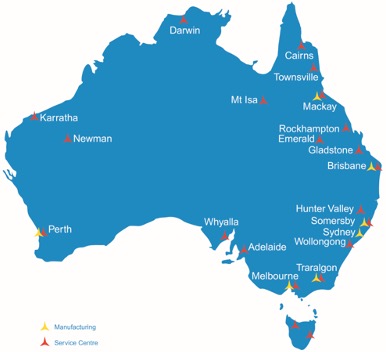 Fenner Dunlop's regional business structure also extends to executive leadership, safety, administration and human resource functions. This regionalised model reduces the business continuity risk compared to one centralised business centre.
As outlined above Fenner Dunlop has directed employees and management to comply with the Australian Government Department of Health Guidelines.This direction is defined by the CMT.
Enforcement with directions are coordinated by Fenner Dunlop's Human Resources department, in association with local management. The CMT overseas enforcement actions for compliance and defines changes as required.
Actions include:
Ramping up of Site and Personal Hygiene to prevent spread of COVID-19:

Cleaning and sanitation schedules and specifications have been increased across all sites. Cleaning has increased over the weekend days, cleaning and sanitation in high traffic areas has been increased to every 12 hours and a sanitation program implemented for all touch points and high-risk areas such as lunchrooms, toilets, changerooms, showers and common areas.
External visitors and additional screening procedures for guests and FD employees prior to commencing work:

Single access points to all sites.
Temperature testing is undertaken in dedicated areas and the Company has secured adequate supplies of PPE and hand sanitation to safely administer this program.
We have adopted an online tool for the COVID-19 survey prior to commencing work. This is primarily for our service teams and the survey triggers a call to action for management should any answer breach COVID-19 protocol.
We have adopted paper surveys for factory and other site workers to ensure we cover all workforce.
The Company has also invested and engaged professional nursing staff to administer the temperature testing at all our main sites.
We have also identified suitable isolation areas on each site to support anyone that is not feeling well or showing symptoms of COVID-19.
Working Remotely, Social Distancing:

We have invested in tools to enable as many employees as possible to safely work remotely from home.
Where possible, we have segregated work teams by physical location to minimise cross infection e.g. factory teams and admin teams.
We have adopted COVID-19 risk assessments tools into our standard JSEA service documentation and Toolbox presentations for our teams.
We have assessed each factory task for social distancing and adopted changes to ensure social distancing.
Response management:

We have established protocols for treatment of suspected COVID-19 cases including:

A standard which defines treatment of individuals depending on their circumstance.
COVID-19 Protocol for response in the event of a at risk case.
Emergency shutdown procedures in the event of a confirmed COVID-19 case.

We have created dedicated isolation areas to manage any suspected or confirmed COVID-19 infections.
Interstate Travel:
Fenner Dunlop is abiding by all interstate travel bans, except where state governments recognise our services are essential for customer operations. In this case strict regulations apply.
Where employees normally travel interstate for work, we are looking to create opportunities for these employees within their home state.
We have invested in temporary accommodation and additional vehicles to support FIFO workers that either reside in the locality of their work or to be able to DIDO to maintain their earnings.
The above represents a current state of the COVID-19 actions taken by Fenner Dunlop. The Directors of Fenner Dunlop recognise COVID-19 is evolving quickly and are maintaining a daily focus on how actions and plans need to change. The Directors are also of the view the Australian Chief Medical Officer and the Australian Health Departmentare the experts in providing advice on actions to mitigate the spread of COVID-19 and expect to continue to act on their advice.
We are proud of our organisation, our people and our ability to service the needs of our customers. We will manage our risks as the government directs and our customer base demands. We also pledge to work to keep the Australian industry going and where we impact that, we will use the best of our abilities to play our part.
Yours sincerely
Graham Lenz
Managing Director
Fenner Dunlop Australia Pty Ltd.
Download PDF Version - 200401 FD COVID-19 - Supply and People Management Strategy 1 Apr-20
Download Archive
COVID-19 – Fenner Dunlop Supply and People Management strategy 19 March 2020