Fenner Targets Belt Failure with Two New Conveyor Diagnostic Devices
Surprises are never welcome in a fast-paced mine operation. Think about the cost to replace the most productive, highest performance belt, not to mention the loss in production while it is out of action. Now imagine how much can be saved with an early warning monitoring system so that a repair or planned overhaul can take place instead.
Fenner Dunlop offers a complete set of belt monitoring and diagnostics tools for the detection of early splice failure, cord/strand breaks, cord corrosion and carcass defects. In 2006 Fenner Dunlop was already ahead of the market with the rEscan technology - an automated system for early detection of cord breaks, corrosion and splice failure. No longer after the rEscan success, Fener Dunlop released the EagleEye, the most advanced combined rip detection and continuous belt monitoring system in the world.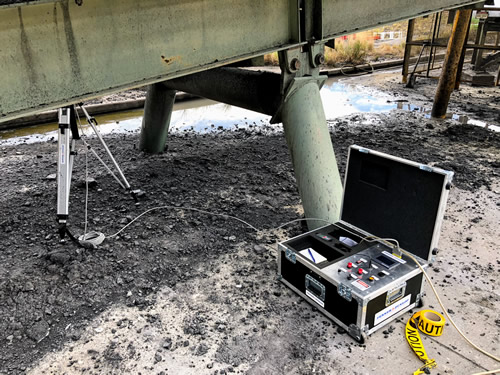 Also, part of the Fenner Dunlop high-performance conveyor diagnostics suite is the RipRanger, developed to detect belt rips as soon as possible, it gives the ability to measure, monitor and analyse changes in individual loop condition and quickly isolate damaged or poor performance loops.
In applications where wiring is complicated and prone to failure, the ACE Wireless Conveyor Monitoring replaces the standard cabling method with wireless signals preventing unwanted downtime.
Fenner Dunlop also offers the iBelt, a cutting-edge solution allowing operations to track the location, lifecycle and use of belts effectively. RFID tags are placedin the conveyor belt at the time of manufacture along with opportunities to be addedduring splicing, where all the variables are recorded and stored in the cloud. As the belt passes the iBeltsystem, all changes are recordedand integrated with other technologies such as Belt Weighers, Online Thickness Tester and Belt Rip Systems so that a full belt history can be obtainedalong with accurate predictive life data.
Innovation is the backbone of continued improvement and early this year Fenner Dunlop launched the pioneering Online Thickness Tester and the OptiLength to compliment the current offering of Monitoring System technology.
The Online Thickness Tester is a cost-effective belt cover thickness system which can be more economical than hand-held readings of similar output. The system uses airborne ultrasonic signals to measure the wear profile of the cover rubber of a conveyor belt. Thisis takenwhile the conveyor is running at full speed with a full length and width belt map being produced. Issues are easily identified, and a belt carcass image is produced to show the wear profile. This system runs independently, and regular reports are providedto the customer.
The innovative OptiLengthis a laser belt length measurement systemthat has a compact and robust design, providing reliable results even under harsh conditions. It can be installedon a running conveyor that provides access to accurate belt speed and belt length when installed up to 1000mm from the belt. One of the benefits of this non-contact measuring system is the system interface – complete, multi-function system that enables access to quickly and easily display length, velocity, quality factor and gauge status.
"All Fenner Dunlop Diagnostics tools are manufactured in Australia and backed by warranty. We also work with the customer for customised solutions, all supported by our highly qualified team of engineers and conveyor experts" explains Shane Wilson, Operations Manager – Conveyor & Components Division, from Fenner Dunlop ACE.