Fenner partners with Kestrel to support Emerald community
Article published in Australian Bulk Handling Review
Fenner Conveyors will deliver four conveyors to Kestrel Coal Resources, with each to be painted a different colour to represent both business' combined support for community groups in the Central Highlands region.
Selected charities include: the Breast and Prostate Cancer Association of Queensland, represented by a blue conveyor; Headspace Emerald, represented by a green conveyor; Emerald Neighbourhood Centre, represented by a purple conveyor; and Emerald Men's Shed, represented by an orange conveyor.
In late 2021, Fenner won the three-year contact for conveyor system and belting supply to the Bowen Basin-based mining company in Emerald. This includes all mechanical and electrical engineered equipment, alongside Fenner manufactured conveyor belting.
ACE Queensland manager Mark Wilcock said the project gives Fenner and ACE the opportunity to leverage combined capabilities in the supply of engineered conveyor solutions, while also giving back to the community.
"We're very proud to have been selected for the 500's Conveyor Project. ACE are bringing the latest technology in Variable speed drives, electrical braking and belt monitoring to Kestrel through this project," he said.
"This accurate control and monitoring of all conveyor parameters, combined with an in depth understanding of the belting capabilities, has enabled us to push the limits of the conveyor system, ultimately resulting in a highly efficient, safe and cost effective solution for the mine."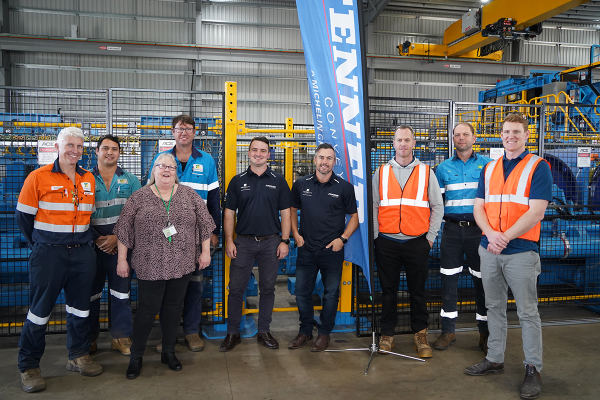 Fenner launched the Community Conveyors campaign in July with mock-up of the blue conveyor in the ACE workshop – the first event to be hosted at the new facility in Paget.
Emerald Neighbourhood Centre Administrator, Jen Stokes said the centre was grateful for the support from both Fenner and Kestrel through this campaign
Emerald Neighbourhood Centre provide a range of services including domestic violence support and temporary relocation – highlighted through the chosen conveyor colour of purple.
"Domestic violence in our region has been heavily impacted by ongoing effects of COVID-19 and the result of natural disasters which have culminated in the rising cost of living. The Community Conveyors campaign will help our case workers to respond quickly and effectively to people in need in our region," Stokes said.
Men's Shed secretary Ross Grierson said that funds from the Community Conveyors campaign will go towards establishing the new Men's Shed in Emerald.
"Our team work to prevent social isolation by fostering mateship. It's our aim to provide a safe and welcoming place for men to feel connected and to build a community of men outside their work. We look forward to welcoming both the Fenner & Kestrel teams to be part of this community," Grierson said.
ACE Senior projects manager Sean Stevenson said the conveyors will symbolise the great work these charities do for our community.
"They will act as an on-site symbol and constant reminder to site teams of the important causes these charities work to support; looking after our health and wellbeing, our minds, our loved ones and our mates, and our overall community," he said.
Related stories: