Quality-Assured Pulleys Rolling Out of New Clean Room in Mackay
Fenner Conveyors has installed an industry-leading clean room for the manufacture and refurbishment of conveyor pulleys at its ACE workshop in Mackay.
It's a widely accepted industry-standard that conveyor pulley bearings should be fitted in a controlled environment.
While maintenance is important to prolong the performance of your assets, once a pulley is installed on-site, Fenner Conveyors as the supplier have limited visibility for condition monitoring (that is unless our iBelt technologies are installed on the system – hint, hint, nudge, nudge).
That's why from a manufacturing point of view installation is crucial, and the best way to ensure quality is to provide a contaminant-free environment that is temperature and humidity-controlled.
The new clean room, located within the Mackay workshop, provides a highly controlled environment, reducing the chance of contaminants in bearings and housings. This results in high-quality, engineered pulleys that deliver improved reliability for the productivity and success of mining and industrial conveyors.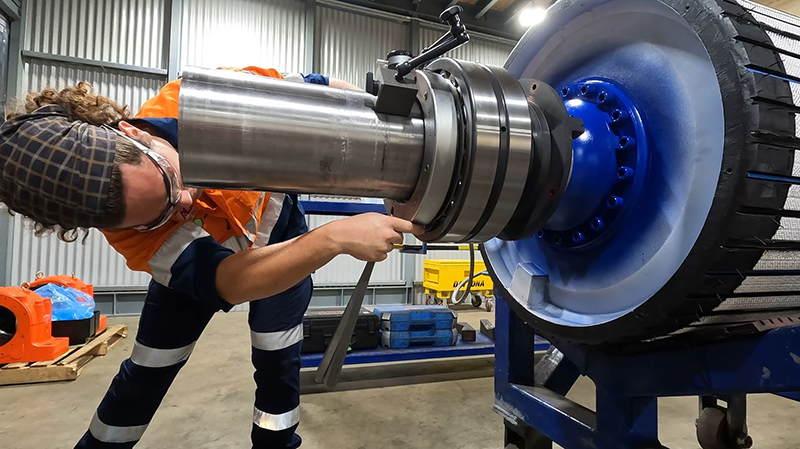 Bearings are a precise and critical element to each pulley. Being made of a conductive material, bearings are at risk of expanding or shrinking with changing temperatures – something unavoidable in the Australian climate - if they are not stored in a controlled environment. This impacts the geometry of the bearing, increasing the likelihood of a bearing failing once installed on site.
When a bearing fails, numerous issues occur – the most high-risk being that it falls out of the structure, or generates heat and friction potentially leading to fires.
A failure causes vibrations on the system which sites usually pick up in VA monitoring. At this point, sites need to replace the entire pulley, which involves stopping the entire conveyor, slacking the belt to remove and replace the pulley, followed by repulling, re-tensioning and checking belt tracking – overall an expensive exercise requiring one-day of downtime minimum (often more).
Pulley Project Coordinator, Dylan White, said the severity of these consequences is well recognised by ACE, which is why the team has invested in designing this designated clean room facility.
"As soon as we receive bearings they are placed into storage within the clean room and marked with pulley ID, job number etc. This means from the time they arrive at our workshop we eliminate exposure to any outside potential contaminants, as well as reducing fluctuation in temperature or humidity."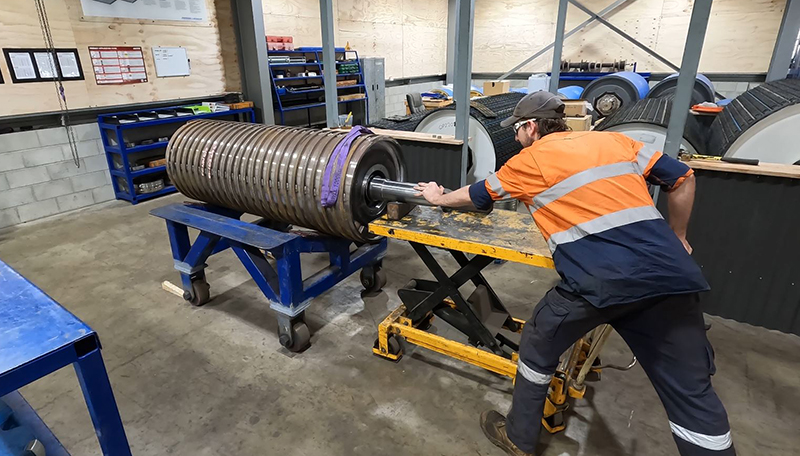 The new clean room for pulley manufacture and refurbishment is an additional $150k investment to the already state-of-the-art facility for conveyor solutions in Australia. Fenner Conveyors and ACE moved into the 21500 sq m East-Coast hub at Farrellys Rd, Paget in 2020. The facility was commissioned to facilitate the growing field service and engineering businesses from one location.
Pulley Manager, Tony Hackett, said the commitment to quality through this investment in clean room facilities separates ACE conveyor products from the competition.
"Nobody else is going to these lengths to ensure pulley longevity. Our clean room is a permanent structure with over 120 square metres for practical and efficient manufacturing."
"No matter the size of the pulley, every single one is prepared in the clean room. We really committed to doing it properly."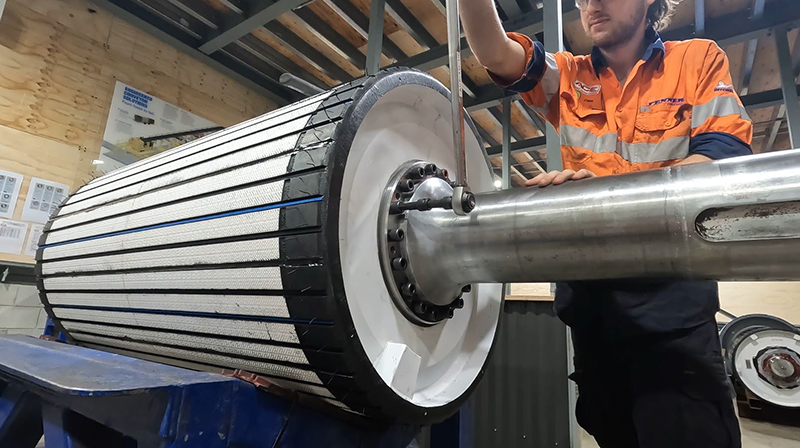 There are five pulley bays within the clean room – each measuring 24 sq m and equipped with all the tools required, including a one tonne chain block to lift pulley housing into place safely and accurately.
ACE Pulley Technical Lead, Jaswinder Chopra, said the space was designed with improved efficiencies in-mind for the workshop team.
"By implementing a 5S technique, the facility is facilitating an ergonomic flow throughout the manufacturing process. Each station is set up with the process in mind – once the pulley is finished at station A, it moves to station B, and so on."
The ACE team can produce pulleys weighing up to 16 tonnes with more than four-metre-long dual drives, emphasising the breadth of capability ACE can deliver with this new, designated space.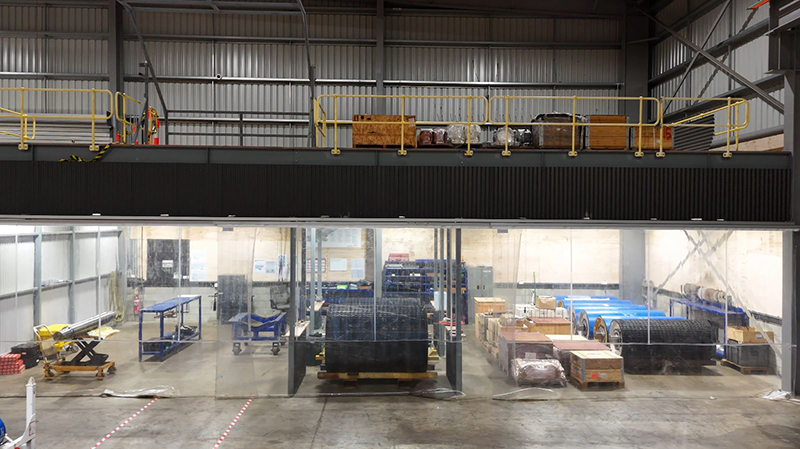 Another consideration for ACE when designing the purpose-built facility, was the benefits of having pulley manufacturing and testing areas in close proximity. The clean room sits alongside ACE's loaded run up machine within the Mackay workshop. Ease of movement for equipment between both designated areas adds to the level of efficiency and control ACE hold over QA testing.
Overall, providing this level of quality assurance is elevating industry standards. Pulleys prepared in controlled environments, paired with loaded run-up testing, ensures pulley longevity is warranted.
With all these things in place ACE can reduce the risk of premature failure in bearings.
"We'd like to assure customers and future customers that pulleys will be built to the top specifications, without any compromise in quality. We are investing in innovation for the development of the best technologies and manufacturing techniques," said Chopra.
Fenner Conveyors has been servicing the East Coast for almost 50 years. This additional investment at the Mackay location supports Fenner Conveyors' ambitions to expand its pulley offering through ACE nationally and surpass market expectations.
"We care about the customer, not the competition; our utmost focus is to safely supply the best product to the customer."