Yallourn Celebrates 100,000 Hours Injury Free
The team from Belle Banne Conveyors, Yallourn, have recorded an impressive safety milestone – four years injury free, equivalent to 100,000 hours.
Branch Manager, Ray Moretti, said the milestone was widely commended by Belle Banne Conveyors, and the wider Fenner group.
"Here at Yallourn the team have achieved quite a milestone, so we thought it appropriate to celebrate and thank each and every team member for their part in ensuring we all "go home safe and well everyday," said Moretti.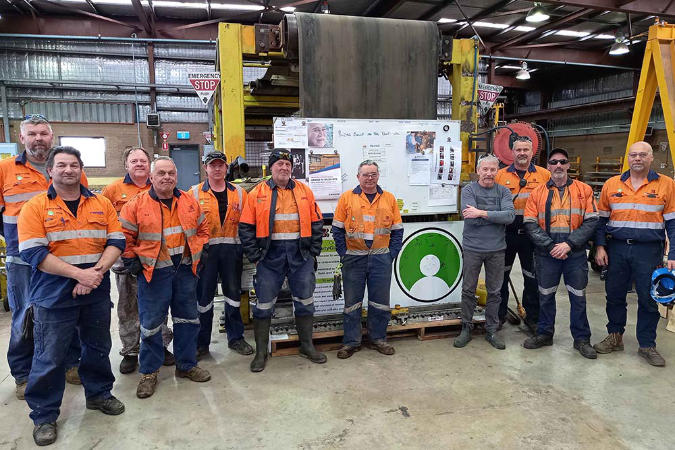 The team at Yallourn is made up of belting, engineering, administration and managerial roles, serving Energy Australia's coal mine and power station, providing routine, planned and breakdown maintenance support.
Yallourn also provides the manufacturing and refurbishment of conveyor components, including the provision of stock spares of conveyor rollers and pulleys.
Health and Safety Advisor, Nicholas Talerico, said over the last four years the Yallourn team have successfully improved safety onsite by implementing a number of safer alternatives to high-risk equipment."
"For example, our team implemented the knifeless splice requiring the modification of existing vulcanising plant and equipment, and replacing both flat and hook knives with oscillating Fein tools, piano wires and hot grooving tools – a major safety innovation for the Fenner group," Talerico explained.
"We also replaced steel cable pulling on a Dozer winch with the use of a diesel-operated winch fitted with Dynema cable."
"Our team introduced a rubber cut circular saw capable of cutting material up to 50mm in thickness, in turn eliminating muscoskeletal and knife injury risks. And we recently purchased a battery-operated saw to replace a hand saw for cutting pactene scraper blades."
"Our pulley refurbishment bay was refitted with LED lights for a brighter and more environmentally friendly workspace."
"And our engineering team coordinated the design and installation of a conveyor coal plough to eliminate coal spillage and the risk of falling from heights."
There are a number of high-risk activities the Yallourn team perform safely, on a daily basis. Completing routine maintenance and repairs requires the expert use of hand, electric and battery tools and equipment, not to mention the risks of working at heights and manual handling.
A large part of Yallourn's field service crew complete belt changeouts – extensions and inserts – which involves hot vulcanising and large-scale belt handling equipment with suspended loads.
"Operating in an open cut mine, our team is alert to hazards when operating vehicles – whether it be mobilising the plant, inclement weather conditions, or navigating mine heavy vehicle traffic, not forgetting the risk of kangaroos!" said Moretti.
Achieving this milestone is the result of a strong safety culture and dedicated efforts from every individual in the team.
Every Yallourn staff member undergoes thorough Verification of Competency (VOC) training, inductions, and permit authorisations, and obtains high risk ticketing. This is alongside comprehensive protocols from the Fenner Safety Team including daily pre-start toolbox meetings and safety checks for hazard identification, risk assessment and control.
"It is the ongoing challenge we all face daily, to keep ourselves and our colleagues safe - not forgetting after hours, our families and friends," said Moretti.
"Our team is not afraid to speak up and have each other's back. We're really proud of team and aim to maintain our zero injury track record through the coming years."