ACE Celebrates 10 Years of Growth with Fenner Conveyors
In November 2012, Fenner Conveyors acquired Australian Conveyor Engineering (ACE).
The addition of ACE to the Fenner group allowed both companies to enhance their level of service to customers.
Chief Commercial Officer - Engineering, Tony Pace said that with both companies passionate about making conveying safe, efficient, and cost-effective, the acquisition was a complimentary merger of expertise and capability.
"Prior to the acquisition, Fenner was a belt manufacturer and service provider. The ACE business brought the ability to design, supply and install conveyor systems, which was integral to the roll-out of our Engineered Conveyor Solutions strategy," said Pace.
"Today between Fenner and ACE teams, we can deliver complete conveyor solutions – from an initial concept to on-site operation, with all capabilities completed in-house."
Regional Manager ACE Queensland, Mark Wilcock said access to the knowledge base and on-site presence of Fenner's service teams across Australia has been invaluable for the ACE team.
"Fenner's long-standing presence in the manufacture of conveyor belting in Australia provides an intimate knowledge of belt design and capability, allowing us to push the limits of conveyor design integration," said Wilcock.
"Support from Fenner, and now Michelin, through capital funding for R&D and business improvements, has enabled ACE to remain at the forefront of technological advancements in the conveyor industry."
Earlier this year, ACE and Fenner teams in Mackay combined operations from the one facility.
Executive General Manager of Operations East, Brett McMillan said working closely has been highly beneficial for both arms of the business.
"With ACE located in the same building, our site coordinators can easily engage with engineers about issues our customers are experiencing on-site. This enables us to source conveyor solutions faster and more efficiently with everything done in-house," said McMillan.
Already well established in Somersby, New South Wales at the time, the acquisition allowed ACE to expand in Queensland from Mackay and Brisbane locations.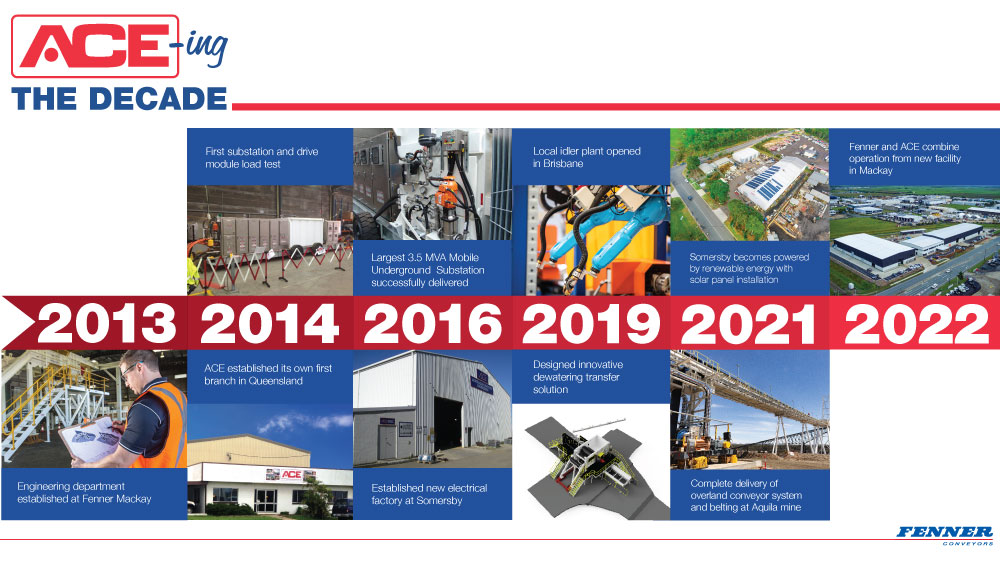 In the decade since the acquisition, the businesses have experienced significant growth across both Queensland and New South Wales.
Regional Manager, ACE New South Wales, Shane Wilson said the teams have successfully executed various key projects which have contributed to this growth.
"From our first substation and drive module load test back in 2014, to the development of innovative dewatering solutions, we are seeing the ACE team move from strength to strength and proactively adapt to the needs of our industry," said Wilson.
"Just last year we delivered the complete overland conveyor at Aquila mine – this was a huge milestone for us with involvement from the entire ACE business and Fenner combined."
ACE General Manager, Brendon Harms, said that with today's operations established across both States, ACE is accessible for customers and can easily leverage electrical and mechanical capabilities as required.
"Now, with the recent acquisition of CPS into the Fenner group, we are ready to take our conveyor engineering across to the West and further develop our offering to the mining and related industries market."