Belle Banne Conveyors Turn Pink for Breast Cancer Awareness
Belle Banne Conveyors supply custom-made conveyor belt winder, painted pink for breast cancer awareness.
The special 50 series equipment are headed to Roy Hill Port in the Pilbara region of Western Australia.
Roy Hill is majority owned by Gina Rinehart's Hancock Prospecting, who is well-known for supporting the National Breast Cancer Foundation (NBCF). The pink winder joins other pink coloured equipment across Roy Hill sites where the colour is used to generate awareness and recognition of those impacted by breast cancer.
The pink equipment serves as a visual reminder of the devastating impact of the disease but also reflects the sense of hope created by our community when supporting such an important cause.
Conveyor belt winders are nothing new for Belle Banne Conveyors with various models supplied to sites across Australia and internationally, but this is the first time one has been painted pink!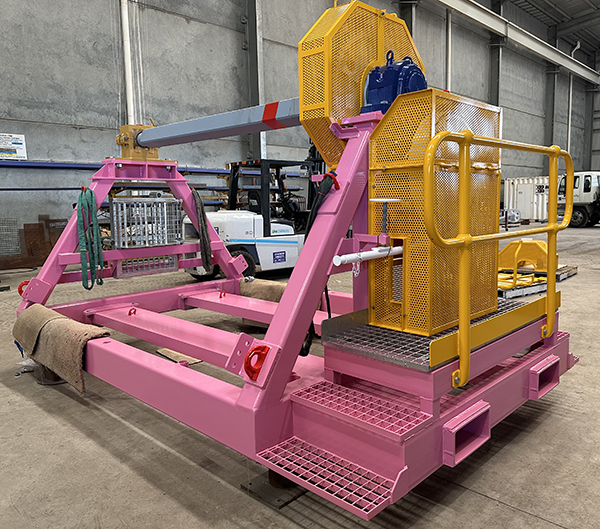 This conveyor belt winder is Belle Banne Conveyors' proprietary design, specifically for use on stacker and reclaimer conveyors. Rated to 25 tonnes and producing 50kNm of torque, this is one of Belle Banne Conveyors most powerful pieces of belt handing equipment.
Belle Banne Conveyors' engineers been developing their belt winder design for the last 8 years, with the first supplied to BHP back in 2015. Traralgon Branch Manager and Engineer, Cameron Trott, oversees all Belle Banne Conveyors belt handling equipment and worked on the Roy Hill project.
"We work with each customer and tailor the design to suit conveyor belt and site specifications."
With recent adaptations, Belle Banne Conveyors' belt winders can now operate conveyor belts up to 2600mm wide.
As a piece of large-scale belt handling equipment, size is a significant consideration for Belle Banne Conveyors' project engineers.
"Our winders are designed to be compact so they can be used for the machine conveyor belt. They are also fork-liftable and easy to position. The main base has container locks that enable it to be restrained to a standard transport trailer," Trott explains.
"Our belt handling equipment is always undergoing design changes in order to ensure we are delivering the most efficient and innovative solution for our customers."

---
---