Fenner Combines Modern Safety Practices at its Pioneer Manufacturing Facility
Fenner Dunlop records 365 days injury free at West Footscray manufacturing plant.
Footscray is Fenner's oldest manufacturing facility in Australia. The company's roots trace back to 1890 when two British belting tradesmen, Arthur and Charles Hopkins began manufacturing leather belting, not far from the site of today's main plant.
Today it's the main manufacturing plant for Fenner's premium varieties of fabric ply belt, distributing to customers nationwide.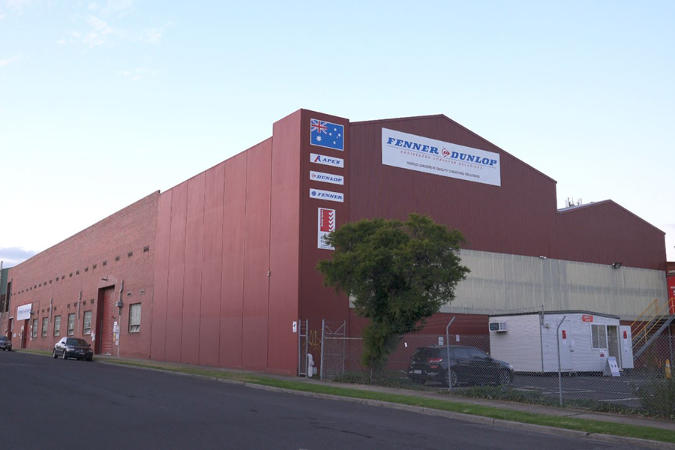 Footscray operates with over 100 employees – approximately 80 in manufacturing and another 30 in shared services.
Footscray Health and Safety Advisor, Damian Vincent, explains there are a number of high-risk activities that Fenner team members perform safely on a daily basis.
"Servicing a number of key customers, including coal mines between the Hunter Valley and Bowen Basin, it is vital that our people execute safe work practices while delivering superior workmanship."
"Due to the nature of our industry, there are lots of safety hazards our team need to be alert to when performing work in our manufacturing plant – such as mill knives, in-running nip points and crane movements – just to name a few!"
"As one of Fenner's earliest established factories, some of our equipment has aged. It's not unusual for our team to be running machines from the 50s and 60s."
"As a result, we have invested heavily over the last 2 years to improve safety. We've installed centralizers on almost all of our machines, motorised mill nip control, calender automatic trim knives and overhead crane safety control."
The Footscray manufacturing team undertook a second round of Safety Circle training earlier this year, with all employees successfully completing the training.
We have a strong leadership team at Footscray, consistently performing at 10-30% above the SAO expectations for site, Vincent continues.
"With regular, up-to-date Safety Circle training, we are able to reinvigorate safety engagement with our operators and increase issue identification."
Footscray Plant Manager, Hong Koh explains a key initiative that has helped address team safety.
"Our daily pre-start meeting agendas are opened with a safety address. We ask team members if there are any hazards they've identified in the workplace within the last 24 hours that need reporting."
The 'hazard hunt' helps facilitate contributions from all members of the team, Koh explains.
"When we initiated the 'hazard hunt' activity back in 2019, 68 hazards were identified. Our team's hazard identification strengthened over the next year, as we saw a significant improvement in reporting accuracy and precision."
"Today we have eliminated almost all hazards, with minimal remaining open for corrective action."
Fenner's safety team has significantly improved communication between branches, by regularly updating corrective action registers and nominating a local safety focus each week.
"Eliminating the risk of hazard ultimately means we are mitigating hazards turning into injuries," says Koh.
"Maintaining the health and safety of our people is always our number one objective."