Innovative Conveyor Solutions for Enhanced Efficiency and Safety
In the dynamic realm of coal mining, where operational efficiency and worker safety hold paramount importance, embracing cutting-edge technologies is not just a choice, but a necessity.
The recent collaboration between Fenner Conveyors and Conveyor Products and Solutions (CPS) for a major coal mining client in Central Queensland, demonstrated both businesses' ability to enhance productivity while fostering safer and more sustainable site operations.
The challenge at hand was daunting yet familiar - to upgrade the existing steel rollers on an overland conveyor project. The conventional steel rollers were not just heavy and noisy, but their maintenance was a recurrent issue leading to frequent downtimes.
To address these concerns, the CPS team delivered Yeloroll-HD Rollers to enhance performance while alleviating the operational challenges. For Curragh, CPS' low-noise, lightweight, yet heavy-duty composite rollers presented an opportunity to diminish noise pollution on-site, ensuring a less hazardous working environment for site teams.
In tandem with the roller upgrade, Fenner Conveyors introduced their low-rolling resistant (LRR) belting, PowerSaverTM. The revolutionary conveyor belt compound for pulley cover significantly lowers power consumption, thereby contributing an overall improvement in mine energy efficiency.
The project involved the replacement of a staggering 18,000+ rollers and 42 kilometers of conveyor belt. The project was carried out with precision and proficiency from Fenner Conveyors service team in Emerald.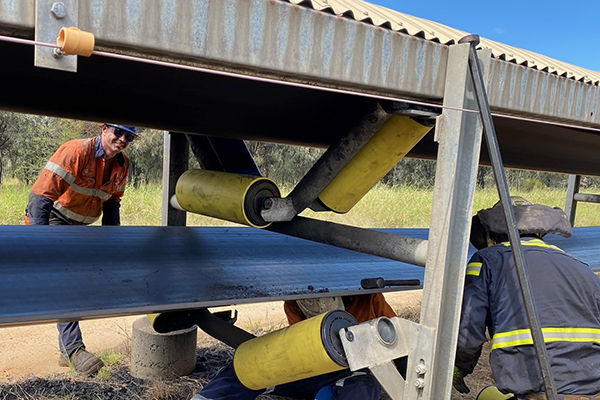 The adoption of the Yeloroll-HD Rollers and PowerSaverTM conveyor belting has been pivotal for Curragh.
Following the initial installation of the new Yeloroll-HD Rollers, Curragh has already seen a noticeable reduction in noise levels. Readings were taken using a Protech compact digital sound level meter, showing sound levels ranging from 71.2dB to 73.3 dB (a ~16dB reduction in noise). Yeloroll-HD Rollers are designed to deliver a 20% weight reduction in rolling mass. For the Curragh site this has resulted in a reduction of 14,700 kgs for centre trough rollers and 63,210 kgs for wing/return rollers.
Furthermore, the reduction in rolling mass brought about by the Yeloroll-HD Rollers led to a weight reduction of 14,700 kgs for centre trough rollers and 63,210 kgs for wing/return rollers.
Compared to the original steel rollers, Curragh has already noticed a decrease in roller changeouts and downtime, translating to heightened productivity.
Overall, the project showcased both Fenner Conveyors and CPS' commitment to innovation, strategic collaboration, and operational excellence.
Connor Gregory, Manager CHPP at Coronado Global Resources Inc. said the switch offered an innovative solution to the challenges on site.
"We've already noticed substantial improvements, particularly a marked decrease in noise pollution and manual handling risks on-site. It's an effective upgrade that supports productivity, personnel safety, and environmental responsibility," said Gregory.
"With the completion of this project, we're moving towards a safer, quieter, and more efficient future in mining."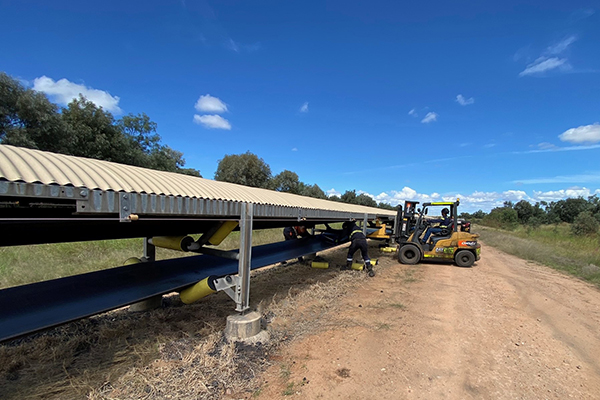 Read the project Case Study here.