Fenner Goes Tougher, Not Thicker
Published in the Australian Bulk Handling Review
Fenner's new Usflex super-heavy-duty belt can withstand some of the toughest environments the iron ore industry can throw at it.
When it comes to conveying, iron ore is notoriously rough on belts. Fines – the small sand-like material – are highly abrasive, while larger ore product can cut, gouge and rip through even heavy-duty belts due to the impact from ore loading.
The severe chute loading conditions were causing problems for a mine in the Pilbara region of WA. One of the mine's feeder conveyors handling the large, heavy product was seeing consistent premature belt failure, causing issues with maintenance costs, delays and lost production.
To mitigate this issue, the mine reached out to Fenner Conveyors to find a solution.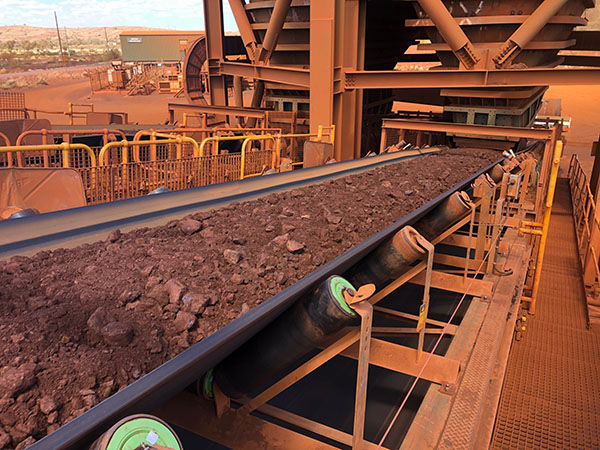 Jayden Franklin, ECS Mechanical Engineer at Fenner, said the Team identified the main issue with the existing belt performance.
"Steel cord belts can be susceptible to impact damage in a large product environment, and this can cause significant damage to belt cords resulting in early belt failure," he said. "The existing belt was consistently failing to meet the intended 24-week changeout lifecycle."
The conveyor needed a tougher impact resistant belt, so Fenner began trialling its UsFlex D10 product.
The UsFlex Straight Warp construction has been engineered to provide high impact-resistance and protection against rips and tears. Usflex also has a longitudinal rip resistance three times greater than traditional plied belt. The straight laid yarns result in virtually no crimp, resulting in a belt carcass with very low stretch compared to other fabric belts. These characteristics make it highly favourable when replacing high-tension steel cord belts across several applications
Franklin explains, "Only Fenner has the manufacturing equipment and experience to manufacture UsFlex belting. The UsFlex product has been refined based on our experience in the Pilbara, providing the optimal balance of Impact Resistance and Low Stretch, which is specifically relevant to applications where it is replacing Steel Cord belting."
"The UsFlex Straight Warp carcass, coupled with Fenner's premium cut and gouge cover compound, Z-Tuff As, provides belt with superior rip resistance and impact absorption," he said.
During the trial, the Usflex belt lasted 44 weeks in service, which roughly doubled the previous belts service life, reducing unplanned maintenance and lost production for the customer. This equates to operational cost savings of approximately $1 million annually."
"In addition to the extended lifespan of the belt, the use of Usflex has the environmental benefit of reducing premature belt disposal allowing site operations to be more sustainable."
Fenner plans to roll out Usflex belt in similar applications across the Pilbara. The company is available to assess customers applications where they are dealing with significant heavy-duty impact and rip-prone environments.
"We've had similar success at other mines," Franklin said. "Demand for Usflex is increasing as customers experience repeatedly successful trials."
"Our Engineered Conveyor Solutions Team has the capacity to assess conveyor systems that are underperforming and collaborate with the mine, port and other materials handling operations to find an improved solution."